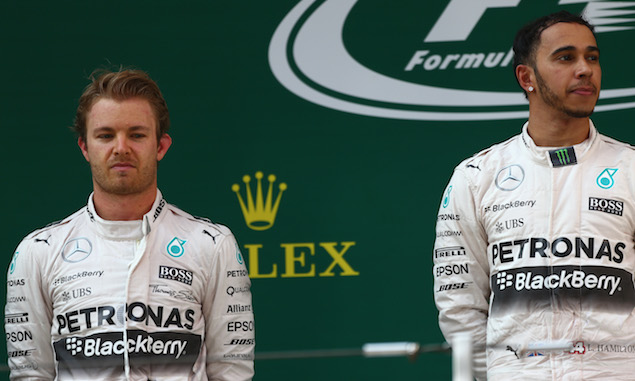 Lewis Hamilton says Nico Rosberg offered "no real threat" after being criticised by his team-mate following the Chinese Grand Prix.
Rosberg was unhappy with Hamilton's pace during the middle stint of the race, venting his anger at the Briton for "unnecessarily" forcing him back in to the clutches of Sebastian Vettel and hampering his race. Following the outburst, Hamilton spoke about how the race went from his point of view and he says he never felt Rosberg was able to beat him.
"My goal was kind of to look after my car," Hamilton said. "I had no real threat from Nico through the whole race so I just managed it and I got to real enjoy it to be honest. A few real good fun laps were the laps before pitstop which I really enjoyed. Ultimately, it was a much smoother weekend than we had at the last race."
And Hamilton also says the lack of a sustained challenge from Ferrari was a surprise for him too.
"I wasn't controlling [Rosberg's] race. I was controlling my own race. Great race, I'm really happy here. I think definitely going into the race, we thought it'd be a lot closer. We knew that the Ferraris were really good with their long-run pace and also looking after their tyres. Today the real goal was to manage the tyres."
Click here to look under the skin of the front-running 2015 cars 
Keep up to date with all the F1 news via Facebook and Twitter