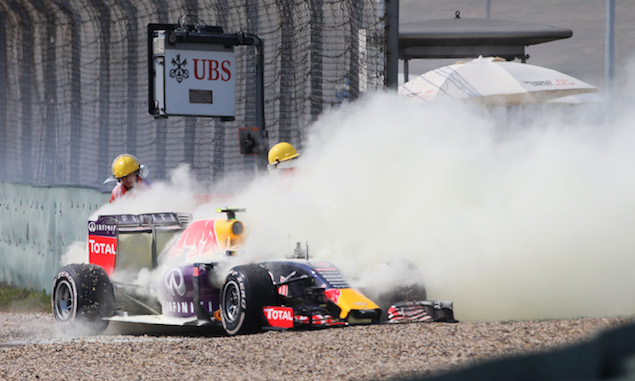 Red Bull's Daniel Ricciardo labels the Chinese Grand Prix as a "frustrating" affair after a poor start cost him dearly and team-mate Daniil Kvyat succumbed to an ICE failure.
Lining up seventh on the grid, the Australian saw rivals whizz past him when the lights went out at Shanghai, as the anti-stall system kicked in on his Renault-powered RB11. While Ricciardo recovered to score points in ninth place he says the team is capable of much better than it showed on Sunday.
"We got into anti-stall on the start, which hasn't happened before; we have to look and see what happened," said Ricciardo. "It's frustrating, that shaped the race and in the traffic we struggled to get by.
"We underachieved today, but hopefully we find something in the next few days and have a better result in Bahrain."
The 25-year-old then drove a solid recovery race, pulling off some fine overtaking moves along the way to salvage a couple of points with P9. One of his one on-track scraps involved team-mate Kvyat, who had a decent getaway before engine woes curtailed his efforts early.
"This weekend has been a bit tricky, and not the happy ending we would have liked," said the 20-year-old Russian. "I saw a lot of smoke coming from the rear of my car, I am not sure what happened but the team are investigating.
"It's not an easy situation, but we have to stay strong, I am with the team and we will all work on it together, and we'll keep our heads high heading into Bahrain."
Click here to look under the skin of the front-running 2015 cars 
Keep up to date with all the F1 news via Facebook and Twitter