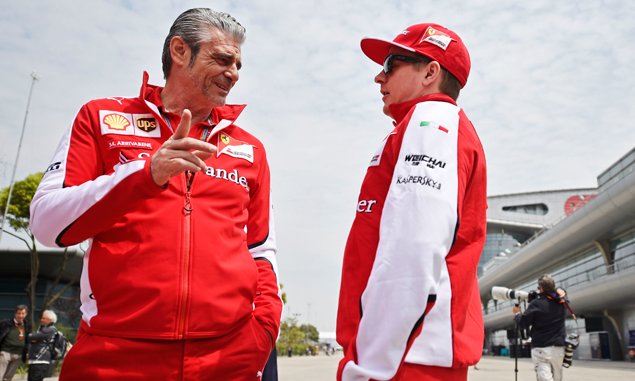 Ferrari boss Maurizio Arrivabene thinks Kimi Raikkonen needs to feel support around him in order to thrive after being outshone by new team-mate Sebastian Vettel over the first three races of 2015.
The Finn only has a couple of fourth place finishes to his name this year while the German can already boast a grand prix win in Malaysia along with another pair of podiums in Australia and China.
What's more, Raikkonen, who remains the last Ferrari driver to have won the title back in 2007, has been quite scrappy on Saturdays with Vettel outqualifying him three times in as many events.
These results come in the wake of a dismal 2014 season when the ex-Lotus man saw former team-mate Fernando Alonso enjoy a clear edge at Maranello.
Although Raikkonen has always seemed to cut his own path into F1 - which quickly earned him the "Iceman" moniker and made him a fan favourite - Arrivabene claims there is more than meets the eye.
"Kimi, he needs to feel the support of the team around him, and especially the team principal," said the Ferrari boss.
"In Malaysia I was talking with him after the practice, and he knows me, we've known each other for many years. I said, 'Kimi, if you're attacking for nothing, expect me to react.'
"But Kimi likes this kind of relationship, when you talk with him straight into the face. He's called Iceman, but actually apart from this image of Iceman he's a guy who is very sensitive.
"If he feels that the team is around him and is pushing for him as it's pushing for Seb, then Kimi can give us very good results and perfect performances.
"The race in Malaysia, I mean we were jumping… for the victory, but actually if you look back and look at the race of Kimi, it was wonderful.
"The new news in Ferrari is that we have a team now, and we have two drivers, two very good drivers."
Click here to look under the skin of the front-running 2015 cars 
Keep up to date with all the F1 news via Facebook and Twitter