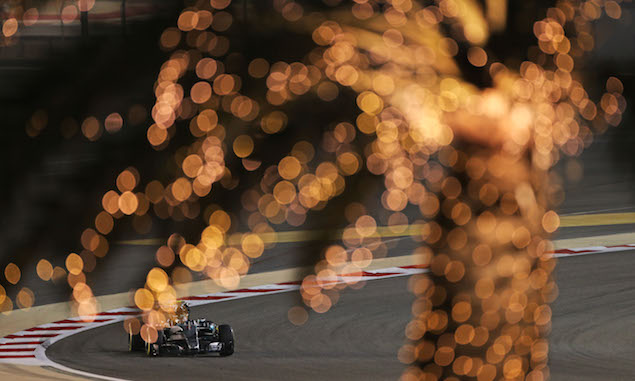 Nico Rosberg set the fastest time of second practice for the Bahrain Grand Prix as Ferrari remained competitive, while a number of drivers were subject to investigations.
Ferrari had topped the opening session on Friday, with Kimi Raikkonen heading a one-two while Mercedes focused on long run pace. However, in unleashing its qualifying potential, Mercedes set the fastest two times with Rosberg top on a 1:34.647 and team-mate Lewis Hamilton just 0.115s adrift. Rosberg's session ended with a call from Mercedes saying it was unhappy with some telemetry, causing him to end his long run early.
While Raikkonen was third quickest - 0.527s off Rosberg - it was Sebastian Vettel's first flying lap on soft tyres which hinted at Ferrari's competitiveness. Vettel was set to be quicker than his team-mate before he ran wide at the final corner to lose a chunk of time, failing to improve on his second run while Raikkonen went quicker thanks to another attempt.
Vettel's session was not without incident, though, as he exited the pits with ten minutes to go to find Sergio Perez and Felipe Nasr squabbling over track position in to Turn 1. Vettel backed off but still reached the apex as Perez turned in, clipping the right rear of the Force India and damaging his front wing.
The session was briefly red flagged as the front wing debris was recovered by marshals, while Vettel said on team radio that the car "stopped decelerating" as he was braking, believing there was a mechanical problem.
Williams looked competitive over one lap as Valtteri Bottas ended the session just 0.003s shy of Vettel, even though the team was focusing on its long runs. Rob Smedley told F1i the main priority would be to run more consistently on soft tyres in the race having failing to do so in China, and as a result Bottas and Felipe Massa ended with two of the highest lap counts.
Daniel Ricciardo and Pastor Maldonado were both within a second of the lead Mercedes as Red Bull and Lotus also looked strong over one lap. The midfield was more widely spread in terms of lap times on the soft tyre, with Felipe Nasr, Daniil Kvyat and Felipe Massa making up the top ten, 1.2s off the pace and 0.3s clear of Marcus Ericsson in 11th.
Jenson Button again hit trouble for McLaren as he was told to stop his car just three laps in to the session having completed only two laps in FP1. On this occasion McLaren managed to rectify the problem to get Button back on track, with the 2009 world champion failing to set a representative time on soft tyres but reaching double figures.
Despite Button's woes, Fernando Alonso ended the session in 12th place, 1.5s off the pace as McLaren again looks capable of challenging for a place in Q2.
While Vettel's incident with Perez was investigated and no further action taken, Hamilton and Raikkonen were also in trouble with the stewards following the restart. Both drivers also were named as under investigation for "failing to leave the pit lane correctly" when the session resumed, but only action was taken against Raikkonen - the first of the two to offend - as he received a reprimand.
Click here for Friday's gallery from the Bahrain Grand Prix 
Keep up to date with all the F1 news via Facebook and Twitter
| Pos | Driver | Team | Time | Laps |
| --- | --- | --- | --- | --- |
| 01 | N. Rosberg | Mercedes | 1:34.647 | 31 |
| 02 | L. Hamilton | Mercedes | 1:34.762 | 33 |
| 03 | K. Raikkonen | Ferrari | 1:35.174 | 30 |
| 04 | S. Vettel | Ferrari | 1:35.277 | 26 |
| 05 | V. Bottas | Williams | 1:35.280 | 36 |
| 06 | D. Ricciardo | Red Bull | 1:35.449 | 27 |
| 07 | P. Maldonado | Lotus | 1:35.474 | 34 |
| 08 | F. Nasr | Sauber | 1:35.793 | 27 |
| 09 | D. Kvyat | Red Bull | 1:35.883 | 23 |
| 10 | F. Massa | Williams | 1:35.884 | 35 |
| 11 | M. Ericsson | Sauber | 1:36.148 | 34 |
| 12 | F. Alonso | McLaren | 1:36.191 | 22 |
| 13 | R. Grosjean | Lotus | 1:36.334 | 31 |
| 14 | C. Sainz | Toro Rosso | 1:36.471 | 32 |
| 15 | N. Hulkenberg | Force India | 1:36.805 | 30 |
| 16 | M. Verstappen | Toro Rosso | 1:36.917 | 26 |
| 17 | S. Perez | Force India | 1:37.062 | 33 |
| 18 | W. Stevens | Manor | 1:39.131 | 21 |
| 19 | J. Button | McLaren | 1:39.209 | 15 |
| 20 | R. Merhi | Manor | 1:40.592 | 26 |