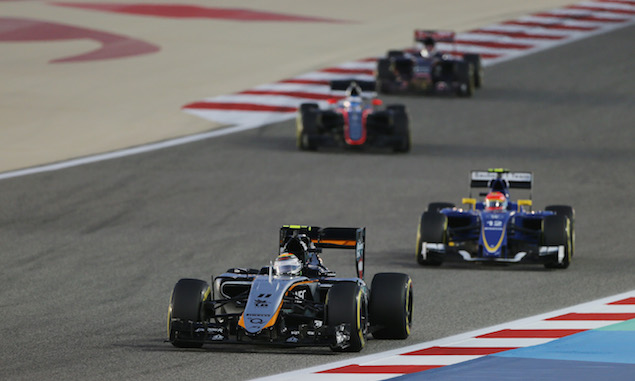 Sergio Perez says he delivered "one of my best races" to finish eighth in the Bahrain Grand Prix and score his first points of the season.
Force India launched its 2015 car late and will look to heavily update the VJM08 at the Austrian Grand Prix. As a result, the team has struggled in the early races but the car was suited to the Bahrain International Circuit and Perez finished a comfortable eighth on a two-stop strategy. Perez says it was one of his best drives and praises the team for the way it helped him pull off the result.
"Eighth place feels very good and I'm very satisfied," Perez said. "It was a great opportunity to score points and this is a nice reward for the whole team. Before the race we were not sure a two-stop strategy was possible for us – we thought the tyre degradation would be too high, but the team did an amazing job to make it happen.
"My engineers were giving me good information over the radio and after the first stint we knew that stopping twice was our best chance of scoring points. I think this was one of my best races in terms of managing the pace and the tyres. There are a lot of positives to take from this weekend and once again we showed that this team has a lot of heart and that we never give up."
Deputy team principal Bob Fernley was also full of praise for Perez's performance.
"Finishing with some points is always a good result, especially considering the way in which Sergio and the engineers executed the two-stop strategy," Fernley said. "We needed Sergio to preserve his tyres to make our strategy work and he did this perfectly. When there was the need to pull a decisive move, he did so without compromising tyres or car and that proved to be the key for the result."
Click here for analysis of the development war between Ferrari and Mercedes 
Keep up to date with all the F1 news via Facebook and Twitter