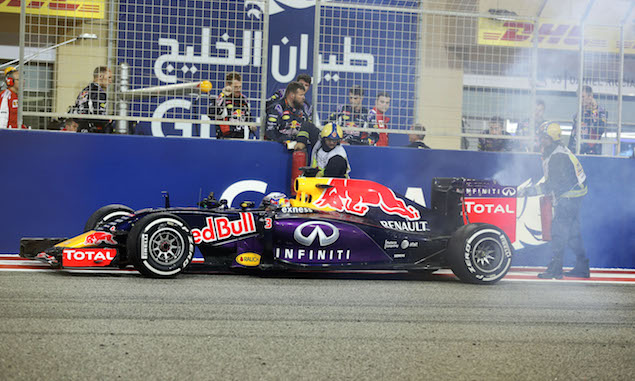 Christian Horner says he has been impressed by the way Daniel Ricciardo has dealt with a difficult start to the season after suffering another engine problem.
Ricciardo's engine failed as he exited the final corner in the Bahrain Grand Prix, allowing him to coast over the finish line before stopping by the pit wall. The problem follows a number of difficulties for Red Bull, with Ricciardo's sixth place on Sunday matching his best result of the year so far.
Asked how Ricciardo had handled the team's struggles this season, Horner replied: "No different at all.
"His attitude, his approach, his personality, his demeanour is exactly the same. That is great for the guys around him as well, he is not letting his head drop or throwing a moody there is none of that. I am very impressed with how he has dealt with it."
Confirming that Ricciardo will be on his fourth engine out of the four allowed this season at the next race in Barcelona, Horner says he is certain the Bahrain power unit cannot be salvaged.
"All the fireworks went off and the engine felt like it needed to join in! A fairly spectacular finish, it failed 200m before the line, but we had enough momentum to cross the line.
"I think that engine will be a coffee table in the future."
Click here for analysis of the development war between Ferrari and Mercedes 
Keep up to date with all the F1 news via Facebook and Twitter