Eric Silbermann can't wait for testing to start next week. He reckons track action might put an end to all the nonsense that's been passing itself off as news in recent weeks (yes, the editor recognises the irony)
Usually, towards the end of a season, or immediately after Monza to be honest, I've had enough of airports and can barely abide my fellow man. However, the need to deliver news around the clock, even when there is none, driven by the brave new world of Soshall Meeja, means that by the time we reach mid-February, barrel bottoms have been scraped spotless, bellies are truly full and the last straw was blown away ages ago, when it comes to finding anything interesting to say about Formula 1. In other words, the winter break has gone on long enough.
Clearly, the rule stating that if you have nothing intelligent to say then don't say anything has been grossly ignored by the media and the F1 folk over the winter. For those of you unlucky enough not to live in England, you might be surprised to hear that one of the biggest news stories right now concerns the fact that Eddie Jordan ("F1's Village Idiot," copyright Ron Dennis) is going to be joining a ginger-haired disc jockey, a German woman, a man who never takes his crash helmet off and random others in presenting Top Gear, a car-based comedy programme aimed at an audience of men who find talking to girls impossibly difficult.
If that sounds a bit too highbrow for you, then you might be more taken with the Fable of Flavio's Facelift. Thinking about it, Briatore's own eyebrow is probably much higher than it's ever been, hence the slightly surprised look on his (new) face in most of the photos and he's probably feeling as though he's walking around with a permanent wedgie. His lovely young wife looks equally surprised in the photos, as though she doesn't recognise the former Benetton/Renault team boss, but she certainly recognises a good deal when it comes along.
Briatore was famously banned from F1 after masterminding Fernando Alonso's 2008 Singapore GP victory and the man who blew the whistle on this particularly cynical ploy, Nelson Piquet Jnr., has also been in the news recently. The reigning Formula E champion told an Argentinian paper that he's not giving much thought to a return to Formula 1. So, in this spirit of full disclosure, can I just say that I'm not giving much thought to dating Taylor Swift this year.
Ferrari's president, Sergio Marchionne - the only person I know who can look scary in a V-neck jumper - has also felt the need to spout some inanities. He's turning the pressure up a few notches on his team, by suggesting that they really have to win this year. He was even informing other team principals that he reckons the Italian squad has the beating of Mercedes, something which informed observers will tell you is rather unlikely.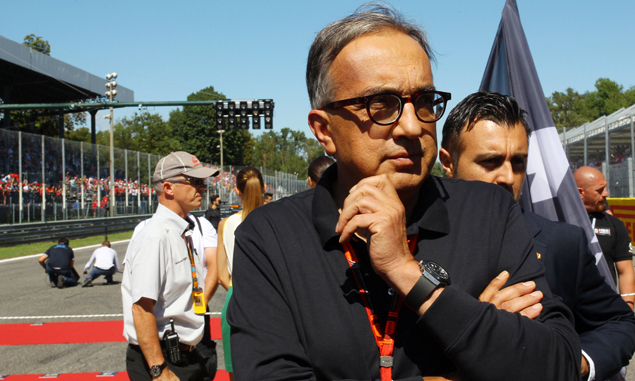 It took the man who, along with Technical Director James Allison, really runs Ferrari's F1 operation, to put things in perspective: "We don't need our president to tell us we must win in Australia, as that is something we should already know," said an unsurprisingly tetchy Sebastian Vettel. Having been tutored by Helmut Marko, the German has had his fair share of motor mouth mentors and the good Doctor himself is clearly itching for the season to start so he can start giving everyone a tongue lashing, but he kept his hand in (sorry about the mixed metaphor of body parts) by telling Renault they should concentrate on Red Bull Racing rather than their own newly-reacquired team.
If you want further proof that this winter break has run its course I would direct your attention to the Jorda affair, which turned into a mini soap opera every bit as bitter as Bizet's Carmen. It's not worth going over the arguments about how slow she is, but what's amusing is that even the Feminist F1 faction steers clear of citing her in their futile quest to produce a woman F1 driver by the power of their rhetoric alone. Clearly as bored with the break as I am, Susie Wolff launched her "Dare To Be Different" initiative. I don't know if she picked the title ironically because of course that's the point isn't it, men and women already are different. Look, if there was no difference between the sexes in terms of what each is good at, do you not think the Premiership or La Liga would feature "mixed" teams by now? Of course they would, as it would be fantastic Box Office.
Bernie Ecclestone has not entered this particular debate for the moment, but he has made his own contribution to the winter witterings, by claiming there is "nothing we can do" to help Monza host a grand prix as from 2017. This is akin to a parent abandoning a sick child and it begs the question, does he even like Formula 1 anymore? There's plenty he can do and we can assume that eventually, he will help sort it out, otherwise he'll be remembered as the little boy that destroyed his beautiful sand castle before leaving the beach, rather than leave it there for others to enjoy after he has gone.
So now the time has come to drown out the mad mid-winter declarations with some hopefully noisier F1 engines and thankfully, this time next week, the cars will have rolled out onto the familiar Barcelona blacktop, when we can talk about something a bit more meaningful.
And finally, if you were sad about being alone on Valentine's Day on Sunday, remember you're alone every other day too, so it doesn't really matter.
Haas previews its F1 testing debut
Tell us more about your job at Red Bull, Guillaume Rocquelin
Key dates for the 2016 F1 season
Keep up to date with all the F1 news via Facebook and Twitter