Setting the stage: Vettel arrives in F1
For half a decade, Sebastian Vettel was an unstoppable force in Formula 1 with his constant presence at the top of the podium, and that celebratory - and annoying at times - wagging finger after winning yet another Grand Prix. The victories came with metronomic regularity as he marched his way to four consecutive world championships with Red Bull from 2010 to 2013.
No one could touch him; an end to his reign as motorsport's greatest talent seemed impossible to even conceive of at the time. A place in the hall of fame alongside the all-time greats such as Juan Manuel Fangio, Jim Clark, Alain Prost, Ayrton Senna and of course his friend and mentor Michael Schumacher was assured.
And then suddenly it stopped, almost overnight, and it was time for Lewis Hamilton and Mercedes to take over. Now - nine years after his last title, and three years since his most recent race win - he's decided to step down and retire from the sport he once dominated. Will he still go down in the history books as a giant of Formula 1, or as someone who could and should have done so much more?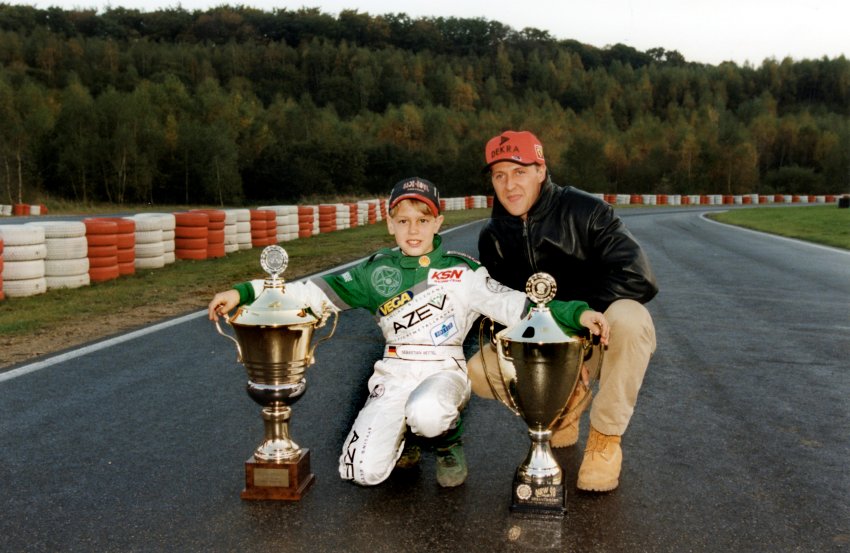 Born on 3 July 1987 in Heppenheim, West Germany, Vettel took up karting when he was three years old and was accepted into the Red Bull Junior Team in 1998, soon picking up titles such as the Junior Monaco Kart Cup in 2001. In 2003 he moved up to open-wheel single-seater racing and won the 2004 Formula BMW ADAC championship. It paved the way for him to become the official test driver for BMW Sauber in 2006 as well as competing in the Formula Renault 3.5 Series.
He had just clinched his first win in the junior category when he was redeployed to compete in the 2007 United States Grand Prix in place of Robert Kubica, who had been injured in a crash. He started the race in seventh, finished in eighth and thereby became the youngest driver up to then to have won a Formula 1 championship point. After that, Vettel was recalled to the Red Bull fold in July 2007. He was now a full-time Formula 1 driver as a permanent replacement for Scott Speed at the junior Scuderia Toro Rosso squad.
In his third race for the team at a rain-hit Suzuka he was running in third behind the safety car when he crashed into Mark Webber's Red Bull, putting both cars out - hardly an auspicious start. "It's kids, isn't it? Kids with not enough experience," said a dismissive Webber. But in the next outing in China, Vettel finished in fourth place.
In 2008, his first full season with Toro Rosso opened with a string of retirements and to be honest he didn't look anything special, but fifth place in Monaco and points the following week in Canada perked him up.
More points followed, but it was at the team's home circuit Monza where everything changed for Vettel when he won the Italian Grand Prix at the age of 21 years and 74 days, the youngest driver to have won a Formula 1 race up to that time.
It earned him the nickname of 'Baby Schumi' and promotion to the senior Red Bull squad for the following season, where he was to replace David Coulthard alongside Webber. Seb had arrived in the big leagues.