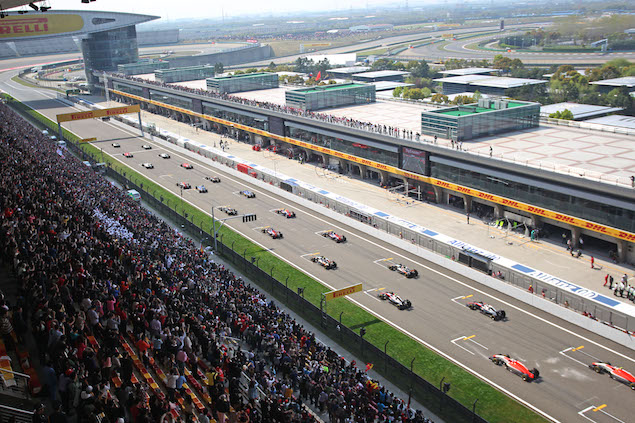 Finally common sense prevails as Formula 1 heads to China, with last year's qualifying format making a return in Shanghai this weekend. The teams stood firm as a collective unit and managed to force the hand of Jean Todt and Bernie Ecclestone, with elimination-style qualifying ditched after just two races. While it is unlikely to signal the end of the political focus off the track, hopefully the return of a qualifying format which is widely liked will lead to more attention being paid to the exciting action we have seen during the opening two rounds of the season. Nico Rosberg arrives at the scene of his first ever grand prix victory with a 17-point lead early in the year, with Lewis Hamilton and Ferrari looking to hit back quickly before the German establishes a more comfortable cushion.
FORM GUIDE
The Bahrain Grand Prix had a similar feel to the podium with Kimi Raikkonen splitting the two Mercedes drivers, though this time it was Nico Rosberg on the top step. Rosberg has yet to be overly tested as Ferrari threw away the chance of a win in Australia and then Raikkonen had a poor start in Bahrain, while Sebastian Vettel failed to even make it to the end of the formation lap. Last year saw Ferrari strong in China as Vettel kept Hamilton and Rosberg honest, but the Scuderia needs a clean weekend to show just where it stands this season having threatened in each of the first two races. Red Bull is cementing its place as the third quickest team, while Williams needs to bounce back from poor strategy calls in Bahrain. The FW37 is quick enough to fight Red Bull, while Haas was aggressive at the last race and will need to take the same approach in China to have a chance of matching its first two results. Like Ferrari, McLaren and Force India need clean weekends to show their true pace after glimpses of performance but a lack of results so far.
2015 RESULT
Pole position: Lewis Hamilton (Mercedes), 1:35.782
Top three: Lewis Hamilton (Mercedes), Nico Rosberg (Mercedes), Sebastian Vettel (Ferrari)
Fastest lap: Lewis Hamilton (Mercedes), 1:42.208
SESSION TIMES (All times local)
FP1: 10:00 - 11:30
FP2: 14:00 - 15:30
FP3: 12:00 - 13:00
Qualifying: 15:00 - 16:00
Race: 1400
TYRE CHOICES
WEATHER FORECAST
China can throw up all sorts of weather conditions but has a habit of delivering cool temperatures and a threat of rain. This year Saturday looks like the day most likely to be wet, with a 90% chance of rain. Friday and Sunday also carry slight threats with largely cloudy conditions predicted to keep temperatures no higher than the low 20s. The track temperature plays a big role in the way the tyres work, and with three compounds available to them - of which only the soft is a high working range tyre - teams will keep a close eye on the weather each morning.
PODIUM PREDICTION
1st - Lewis Hamilton
2nd - Sebastian Vettel
3rd - Nico Rosberg
2015 BEST SHOT
PROFILE: Paddy Lowe, the pioneer