McLaren racing director Eric Boullier sits down with F1i to explain how he has changed things behind the scenes at the team, and why it will win again
When is a blip a blip, and when is a team in decline? McLaren insists it is currently going through the former, taking short-term - or realistically medium-term - pain in order to be a match for Mercedes in the future.
But former heavyweights such as Williams have shown just how difficult it is to return to the front of the grid after a period of underachievement. Granted, McLaren has already shown signs of recovery this season, but racing director Eric Boullier tells F1i it is nowhere near satisfying for the team. Yet.
"It's difficult to say if it has been enough progress because the aim of McLaren is to win races and I think nobody was expecting to start from where we started from," Boullier says. "Nobody also could expect the level of work we had to put into the system to accelerate everything to be where we are today and to be where we expect to be next year.
"So we can't say we matched expectations or not, you know? Since we realised where we were last year we knew we had to roll our sleeves up and just keep working."
The focus has been on Honda since the start of 2015, but that doesn't tell the whole story. Boullier has had to oversee a major overhaul of McLaren itself behind the scenes to keep up with the competition.
"Well first of all you have to go back two years ago and we had to bring a little bit of racing leadership into the system and forget about the engineering approach for a while," Boullier explains.
"The reason why is because the regulations have changed since 2009 and since 2009 one of the issues the team was facing - especially a team like McLaren - was the fact that you would win if you had a steady development program. The reputation of McLaren was it used to change everything in one year and turn around a shitty car into a winning car.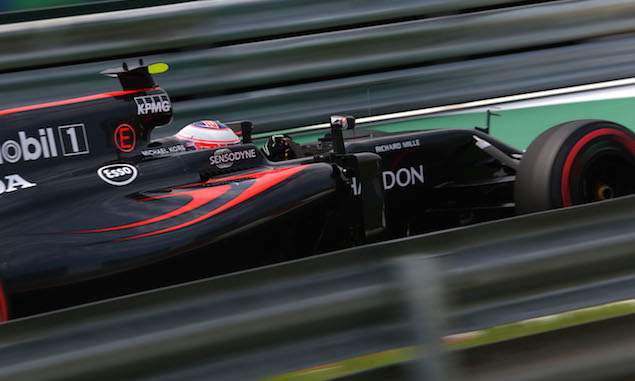 "That was before 2009, and the reason why it couldn't do it after is because there are so many restrictions in the regulations now that you cannot do what McLaren was used to doing. So we took the decision to radically change the car concept last year, which is the size zero concept, because I knew it would suit the aerodynamic parts and that is the biggest work I did personally when I joined McLaren with Jonathan Neale, which was to restructure the aero department.
"And it works, but then we were starting from a clean sheet of paper and fighting against teams like Ferrari, Red Bull and Mercedes who were developing their cars for three, four or five years, so we had to recover this. So the effort of McLaren, at the same time as being restructured, was to work on bringing performance to the car. Suspension, systems, aero, everything.
"So we had to change the way we worked. Another thing which has been newly introduced to McLaren is the old mentality where if you bring an upgrade you build enough spares to race for the weekend, which is costly in terms of money and costly in terms of resources.
"So we went very lean. If you make a new front wing, make two, one per car and use the last upgrade as a spare. Obviously if something happens and the car crashes then you lose performance for the rest of the weekend but this is the price you pay to catch up every weekend and this is why McLaren is seen to be aggressively developing. The truth is we can do it because we are much leaner in terms of process, fabrication, manufacturing and we can bring parts every weekend."
Another challenging aspect of an uncompetitive spell is it becomes difficult for a team to tell how it matches up compared to the front-runners outside of car performance. Boullier acknowledges there may be some aspects McLaren has to further adapt to if it wants to win championships again, but he's confident the foundations are now firmly in place for success.
"Finance is finance, it's easy, you just take the Companies House paper and you know what they're doing! But we do the best with what we have. Even if they have bigger budgets we are comfortable, we have good budgets and we can work. This is the essence of Formula 1 as well, when we will step up and start to breathe down their necks then you need to adapt to each level of competitiveness you are going through.
"So I believe today if you do nothing the system on its own will take us high enough to be on the podium or maybe even win races. I guess if you want to win the championship after there is something else to maybe develop but the core and the base is here."
At this stage McLaren has to make do with seeing points as a successful result, and Boullier has been adamant in the past they are not results to be celebrated. However, he warns the rest of the grid that the current steady progress is only serving to fuel McLaren's confidence, as it slowly but surely proves its dip in form is not a permanent one.
"I think it's just a nice feeling to see the system is working. These days there are so many restrictions in Formula 1 that obviously it is not easy to catch up but it works and we are catching up. So that means we are delivering better than the others and this is the best reward you can have back in Woking for the McLaren people but also back at Honda too.
"The motivation of McLaren is different, we are here to win, nothing else. So today we are frustrated by the results on track but the truth is we keep focusing on what we have to do, on our job. So the way McLaren is working now is much more collaborative and smoother and no politics. Just focused on making our place the best place to be and the best delivery.
"This momentum is working, the atmosphere is brilliant despite the lack of results, but now everybody is starting to build confidence. If what you see on the track is moving you higher up the grid then it is reassuring and building confidence within the team that we are going to get there."
F1i Classic - Mayhem, monsoon and the mother of all Belgian Grand Prix
Max Verstappen interview: Destined to be a champion?
From Sauber to Ferrari - Exclusive interview with Kimi Raikkonen on F1's evolution
Keep up to date with all the F1 news via Facebook and Twitter