What time does the Italian Grand Prix start? What channel is the Italian Grand Prix on? The answers to all of that and more in F1i's race preview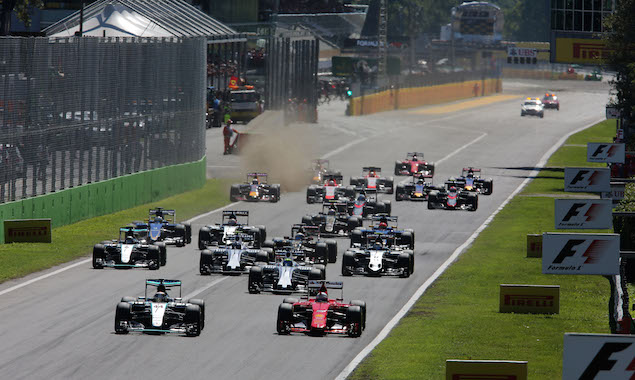 Caught your breath after the Belgian Grand Prix? Good, because F1 is back again this weekend with the final round of the European season. The Italian Grand Prix at Monza is one of the most iconic races on the calendar, with the high-speed autodromo an atmospheric gem with the Tifosi vociferously backing Ferrari regardless of competitiveness. After Spa, the Scuderia will be hoping to avoid contact between its drivers in order to deliver the strongest showing possible after some encouraging signs in Belgium, but Monza is likely to be a Mercedes stronghold with the emphasis on power unit performance as all the teams run as little downforce as possible.
FORM GUIDE
It was another Mercedes victory in Spa-Francorchamps but the headline maker was Lewis Hamilton as he climbed through from 21st on the grid to finish third and limit the damage to race-winner Nico Rosberg. Hamilton has a fresh gearbox for this weekend and with fewer engine mileage concerns he will be well-placed to challenge for victory again. Red Bull has closed the gap to Mercedes recently but is likely to be less competitive on a low downforce circuit, while Ferrari could emerge as the nearest challenger. Williams should go well but Force India leapfrogged it with an excellent fourth and fifth in Spa, while Manor will also be quick as the likes of McLaren and Toro Rosso could struggle.
2015 RESULT
Pole position: Lewis Hamilton (Mercedes), 1:23.397
Top three: Lewis Hamilton (Mercedes), Sebastian Vettel (Ferrari), Felipe Massa (Williams)
Fastest lap: Lewis Hamilton (Mercedes), 1:26.672
SESSION TIMES (All times local)
FP1: 10:00 - 11:30
FP2: 14:00 - 15:30
FP3: 11:00 - 12:00
Qualifying: 14:00 - 15:00
Race: 1400
TYRE CHOICES
WEATHER FORECAST
After a scorcher in Belgium, the teams are faced with more of the same at Monza this weekend but could have a spanner thrown in the works on race day. Hot weather throughout the opening two days are nothing unusual, and will be very similar to Spa where temperatures were over 30C every day. On Sunday, there is a threat of afternoon thunderstorms with a 40% chance of rain at this stage, with the likelihood being it would come during the race itself.
UK TELEVISION TIMINGS (All times UK)
Sky Sports F1 - Live coverage
FP1 - 0845
FP2 - 1245
FP3 - 0945
Qualifying - 1200
Race - 1130
Channel 4 - Live coverage
FP1 - 0855
FP2 - 1255
FP3 - 0955
Qualifying - 1155
Race - 1200
PODIUM PREDICTION
1st - Lewis Hamilton
2nd - Sebastian Vettel
3rd - Nico Rosberg
2015 BEST SHOT
Scene at the 2016 Belgian Grand Prix
Belgian Grand Prix - Quotes of the week
F1i's driver ratings - Spa-Francorchamps
Keep up to date with all the F1 news via Facebook and Twitter