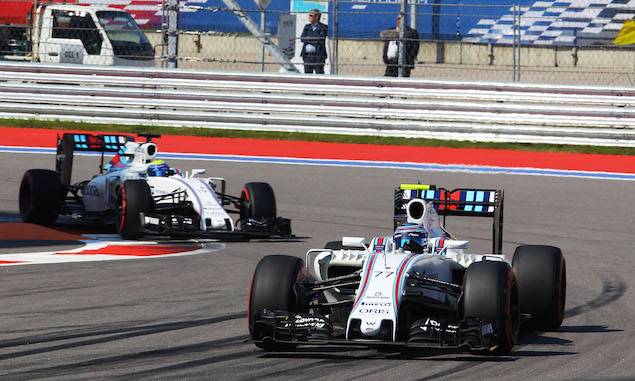 5. Williams - 6/10
While it dropped two places in the standings compared to 2015, it is difficult to be too critical of Williams when you take into account three of the teams that finished above it.
Ferrari and Red Bull each had a difficult year in 2014 and 2015 respectively, opening the door for Williams to secure third place on each occasion. This year saw an improvement from both teams, so fourth was realistically the best possible result for Williams unless it made a massive change to its car. The problem is, it didn't make enough progress over the winter and was then caught out by Force India.
The opening rounds suggested more of the same from Williams as after the Spanish Grand Prix it had amassed 65 points to sit a comfortable fourth with Toro Rosso appearing to be the nearest challenger. However, a 51-point advantage over Force India would be whittled away from that point onwards.
The car remained uncompetitive in slow speed corners, with Monaco and Singapore again exposing that weakness. Problems in the wet continued, too, with the team failing to score in either the British or Brazilian races, both of which featured wet weather. While Williams had failed to significantly improve its car - or address its weaknesses - Force India clearly moved ahead and the team from Grove was unable to respond as it focused on its 2017 car.
There was still the odd highlight, such as a podium for Valtteri Bottas in Canada, but the car got less competitive as the season went on as the team added just 57 points to its total after Montreal. By contrast, Force India picked up a further 131.