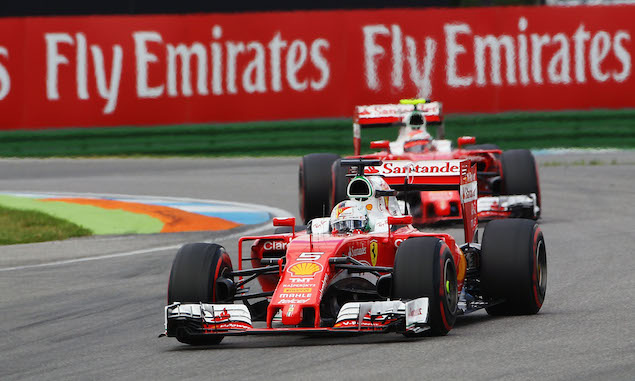 3. Ferrari - 7/10
While Ferrari set itself some pretty large targets for 2016 - namely fighting for the title until the final race of the season - its performance needs to be put into context. Largely unchallenged for second last year, Ferrari was able to chase Mercedes and managed to beat it on occasion, whereas this year, Red Bull had raised its game.
Ferrari could do little about the Renault power unit performance gain but was still comfortably quicker than Red Bull in the early rounds. Its biggest problem was missing opportunities, with a win there for the taking in Australia but essentially thrown away, while reliability took out one of its cars. That reliability prevented Sebastian Vettel from even starting the Bahrain Grand Prix, and Ferrari was immediately on the back foot.
Vettel quickly grew frustrated, but it wasn't due to car performance, as Ferrari scored podiums in eight of the first nine races. Kimi Raikkonen was second in Bahrain, Vettel was second in Canada - again a race he should have won - and secured another runner-up spot in Baku. However, things started to go wrong after the Austrian Grand Prix. After Raikkonen's third place at the Red Bull Ring, Ferrari would only score two more podiums from the final 12 races.
Strategy was a problem for Ferrari throughout the year as the Scuderia often failed to maximise its race potential, but it was consistently fighting Red Bull for the podium, and finished with one car in the top five at every race bar one, finishing sixth and ninth in Belgium after first lap contact between its drivers.