We thought Eric Silbermann had cast his caustic gaze over most folk in F1 this year, but we were wrong. He'd missed out offending race engineering staff, but he's managed to put that right, just before the December 31st deadline.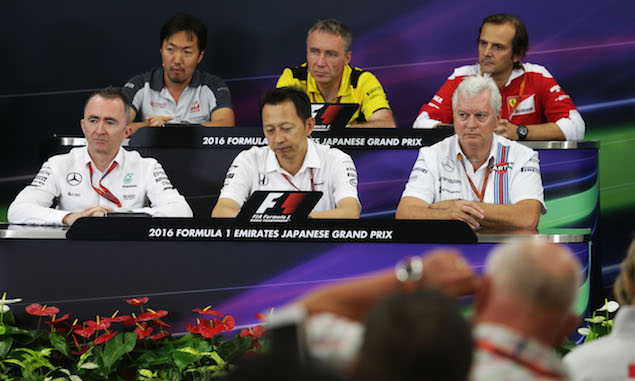 It's the 1987 Monaco Grand Prix, my first visit to the Principality, apart from a trip two years earlier, when I was working on the Monte Carlo Rally. On this occasion I was the team manager at Larrousse-Calmels, but when your team consists of just seven mechanics to look after the single car we ran for most of the season, team manager also meant being the tyre boy and the all-purpose gofer.
I can't recall what vital item of equipment some idiot in the French team had forgotten in the garage, after free practice had started on the Thursday: garlic flavoured breath freshener perhaps, spare berets or a tin box full of circumflex accents, but I had embarked on the long trek to get it. This was before the days when the Monaco pits were actually useable and, if you were a brand-new team, all your trucks and equipment were in the car park buried deep in the rock that overlooks what is the motorhome paddock today. A long walk in other words, but I was connected by radio and I listened as our driver, Philippe Alliot came into the pits and complained of corner exit understeer. Imagine the surprise of the mechanics in pit lane, who'd watched me leave the garage half an hour earlier, when my dulcet tones came down from on high over the radio, saying, "he's complaining of corner exit understeer, not oversteer, you want to raise the rear ride height not lower it."
In my role as a bilingual information conduit between the French driver, the French mechanics and Ralph Bellamy, the Australian engineer who came as part of the Lola chassis package, I had begun to pick up the basics of what engineering tweaks were needed to fix your most common driver problems on a race track. And by the mid-point of the season, I often forgot to include Ralph, by listening to the driver and ordering up set-up changes directly to the chief mechanic. No wonder I was sacked after just one year!
Alright, so this was in the days before computers transformed race car engineering from a pretty pencil doodle on a drawing board and a driver telling you his car felt a bit "stage-coachy" and "wibbly wobbly" into a highly complex world of data, but all the same, I've never quite shaken off my impression that all that technical cleverness is rather over rated.
You expect the drivers to have a win-at-all-costs attitude, but in Formula 1 it's the engineers who are the stand-out competitors in the paddock.
However, what has always impressed me about F1 engineers is just how competitive they are. Not for them any of that sissy "it's not whether you win or lose, it's how you play the game" nonsense. You expect the drivers to have a win-at-all-costs attitude, but in Formula 1 it's the engineers who are the stand-out competitors in the paddock. You certainly cannot question their work ethic, because while most of us are currently contemplating backing off the ol' 9 to 5 and indulging in some festive wassailing, there's been a positive frenzy of post-season, pre-Christmas Musical Chairs among the engineering fraternity. Pat Symonds is heading out the door at Williams, presumably leaving the way clear for Paddy Lowe to return to his alma mater, the team where he made his name, mainly for masterminding the active suspension that helped Nigel Mansell become world champion in 1992. Then there's Ciaran Pilbeam leaving McLaren to head back to Renault, where if some of the rumours are correct, he could be joined by Toro Rosso's James Key in 2018. And in a turnaround almost as rapid as Felipe Massa's, Jost Capito, who admittedly wouldn't claim to be an engineer, has been shown the door at McLaren even before he's had time to get his executive toys in place on his desk.
The best thing about being an F1 engineer, once you've created an overblown impression of yourself, is that you're never out of work, because teams employ you if they think you're great at your job, but they also employ you if they're not sure you're any good but want to stop any other team from employing you, just in case you do turn out to be the real deal. Wait, it gets better still: if they want to get rid of you before your contract is up, they give you even more money so that you can't work for anyone else for a little while (qv James Allison and Ferrari). Why oh why is there no "Gardening Leave" for journalists?
As if all these perks aren't enough, there's one more career move open to F1 engineers. It involves nothing more complicated than persuading a racing driver that he is useless without you by his side. So when that driver, based on his own talent and skill, (and huge pile of sponsorship cash from a dodgy Latin American bank) is propositioned by a new team, he can stipulate in his sign-up contract that he brings you, his faithful race engineer with him. Et voila! Another move, another pay rise, another boat/wing added to the manor house/exotic car/motorbike etc etc.
The old adage, a moving target is harder to hit, springs to mind when looking at the peripatetic voyage of engineers, because if you're never in one team for long, it's harder to get blamed for anything. In fact the reverse is true and this phenomenon is known as "The Gascoyne Effect." Named after the mercurial Mike Gascoyne, whom I reckon worked for at least eight equipes, in most cases as the head technical man, it is used to describe engineers who point at a very good race car that belongs to a team they used to work for while uttering the immortal line: "Of course I designed that before I left".
2016 team-by-team review: Part two
2016 team-by-team review: Part one
Andrew Green: Force India's smooth operator
Keep up to date with all the F1 news via Facebook and Twitter