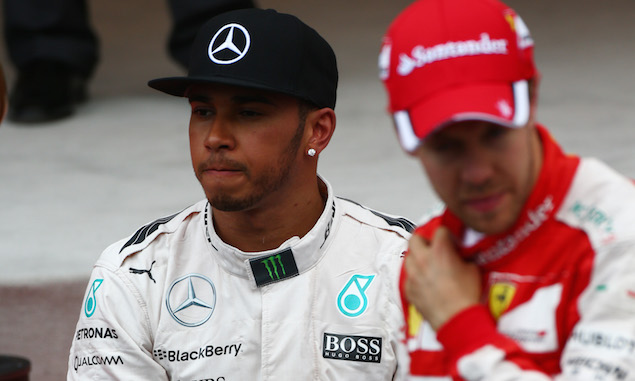 Sebastian Vettel says his own personal experience means he sympathises with Lewis Hamilton following Mercedes' pit stop blunder in the Monaco Grand Prix.
Hamilton was set for victory in Monaco before his team called him in to pit during a late safety car period. However, a miscalculation by Mercedes saw Hamilton emerge in third place behind Nico Rosberg and Vettel, eventually finishing in the same position.
Asked about a time he has experienced similar disappointment, Vettel recalls when he was chasing his first world championship in 2010.
"I think it's normal that you have ups and downs," Vettel said. "Probably the lowest low was in 2010 in Korea when I was in the lead and the engine blew up. Fernando [Alonso], at the time, the biggest rival, three races to the end of the championship, won the race.
"That was pretty bad. We didn't finish at all. I would have been happy at that time to finish third but I think [in Monaco] the circumstances for Lewis were totally different."
With Hamilton emerging from the pit lane just behind Vettel but trying to slot in ahead of the Ferrari, Vettel jokes it was his car's design which ensured he was in second place at the required point.
"I was pretty confident that I was just ahead  - thanks for the design office for the long nose, it helped. And obviously...  you're quite emotional, I gestured to Lewis straight away to say I was ahead, you go back, but that's the heat of the moment. I think we both waited for confirmation who ultimately was ahead. I think at the time we probably both thought we were in front."
Click here for a gallery of Max Verstappen's crash with Romain Grosjean during the Monaco Grand Prix
Keep up to date with all the F1 news via Facebook and Twitter