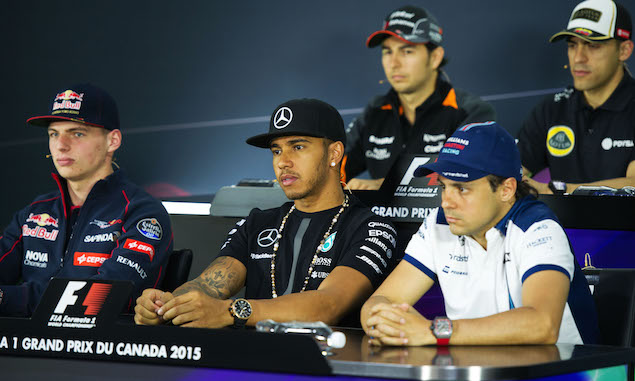 Max Verstappen has taken a dig at Felipe Massa in Montreal, reminding him of his crash at last year's Canadian Grand Prix after being criticised by the Brazilian.
The two drivers were in the driver press conference in Canada on Thursday following Massa's criticism of Verstappen's accident in Monaco. With Verstappen penalised for hitting Romain Grosjean, Massa was asked if he stood by his post-race comments that the 17-year-old's move had been "very dangerous".
"First of all, I said when I had the interview after the race, he was not penalised and they asked me what I thought and I said 'I think he needs to be penalised because what he did was wrong'," Massa said. "So that's what I said and I think, especially when you're in your first year, 17-years old and if you do something like that and you're not penalised, it's completely wrong.
"I think the FIA needs to be strong in a proper way which is what they did actually, that's the only thing I said and I don't change my mind. That's what I believe. We need to follow the rules. I said what he did was wrong. That's what I said."
Following Massa's quotes, Verstappen then responded by bringing up last year's collision between the Williams driver and Sergio Perez at the end of the race in Canada.
"Well, everybody can have their opinion, that's the first thing but I looked at my data, I didn't brake any later," Verstappen said. "I have braked later in the race before that but on the lap I crashed, it was exactly the same lap as the lap before and I got my penalty.
"I'm focusing on Canada right now and maybe you should review the race from last year and see what happened there."
Click here for technical analysis of the braking challenge at the Canadian Grand Prix
Keep up to date with all the F1 news via Facebook and Twitter