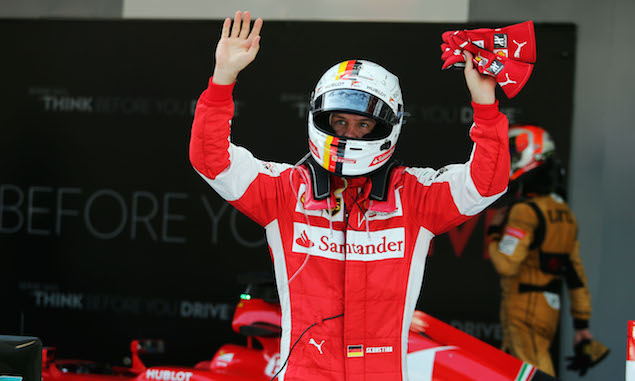 Sebastian Vettel will return to the Race of Champions (ROC) at this year's edition in London, and admits he will miss having Michael Schumacher as his team-mate.
The Ferrari driver won six consecutive ROC Nations Cup titles alongside Schumacher for Team Germany, with the first of those coming at Wembley Stadium in 2007. Having missed last year's edition of the ROC, Vettel will return this November at the Olympic Stadium and says he will notice Schumacher's absence as the seven-time world champion continues his rehabilitation from head injuries sustained in a skiing accident at the end of 2013.
"I'm looking forward to returning to the Race Of Champions, which I've enjoyed competing in since my Formula 1 debut in 2007," Vettel said. "It is going to be very exciting to race cars in the Stadium that hosted the 2012 London Olympic Games.
"Of course I'll miss having Michael as my team-mate this time but I'll try my best to bring the ROC Nations Cup trophy back to Germany and to win my first individual ROC title. That is one trophy that is still missing from my collection…"
ROC president Fredrik Johnsson said Vettel's return will boost the event as it continues to finalise who will be his team-mate.
"It's brilliant news that Sebastian will join us at this year's Race Of Champions at London's former Olympic Stadium. When he raced at Wembley in 2007 it was still a year before his first F1 grand prix win but it was clear to everyone watching that they were in the presence of something special – not least when he beat World Rally Champion Marcus Grönholm in his own rally car.
"Since then Seb has proved himself to be one of the greatest drivers of all time with four F1 world championships and counting. His podiums for Ferrari this year show he is still at the very top of his game and he will no doubt be as keen as ever to push to the limit in the identical machinery on offer at the Race Of Champions.
"The only huge pity is that Michael won't be able to join him to seek yet another ROC Nations Cup title for Team Germany this year. Everyone involved sends Michael our best wishes and rest assured we'll find Seb a worthy team-mate in his absence. This is a special chance to see this racing legend in action up close in a stadium setting and we look forward to welcoming a full house in November to enjoy the show."
Click here for F1i's driver ratings from the British Grand Prix
Keep up to date with all the F1 news via Facebook and Twitter