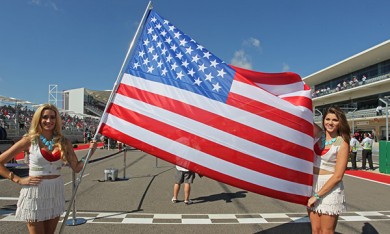 A US investment group led by businessmen Tavo Hellmund and James Carney may put a second American Formula 1 team on the grid next year.
The duo has teamed up and is seeking to buy an existing outfit in order to enter Grand Prix racing, with Motorsport reporting suggesting an offer could be put forward to the Manor team currently owned by Irish businessman Stephen Fitzpatrick.
James Carney is a New York-based financier but Tavo Hellmund is a well-known personality within F1's circles, having been the brainchild behind Austin's Circuit of the Americas and the United States Grand Prix which returned in 2012.
More recently, as a promoter, Hellmund also secured the return on the F1 calender of the Mexican Grand Prix, signing a five-year contract with Bernie Ecclestone to host the race.
Looking at Manor, which entered the sport in 2010 as Virgin Racing, Hellmund and Carney are obviously targeting F1's weakest entity. The British team's future had been in doubt until a few months ago when the outfit missed the final races of 2014 and the first race of 2015.
If the US entrepreneurs' efforts in taking over an F1 team prove successful, they would be joining fellow American squad Haas F1 Team on the Grand Prix trail in 2016. Gene Haas' outfit is currently in its build-up phase, having acquired a technical partnership with Ferrari, whose drive train will power the team's Dallara designed chassis.
Click here for a look at the technical updates brought to the British Grand Prix
Keep up to date with all the F1 news via Facebook and Twitter