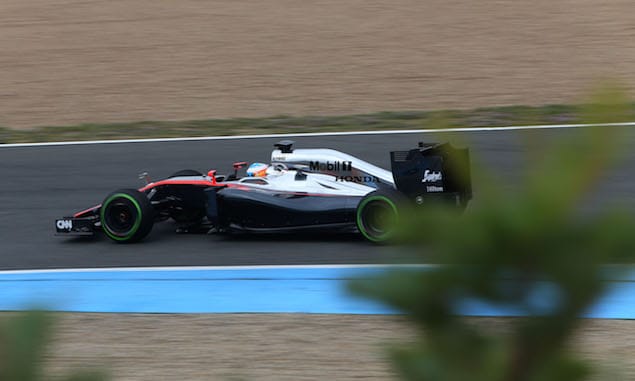 McLaren racing director Eric Boullier says the team is "less than 50%" through its schedule at the first pre-season test at Jerez.
With Fernando Alonso and Jenson Button managing just 6 laps each on the first two days, day three started more promisingly for McLaren as Alonso was quickly up to 32 laps. However, a cooling water pressure issue caused the team to remove the Honda power unit and end its running early, with Boullier admitting is has yet to complete half of its planned program with one day of the first test remaining.
"Not enough, obviously," Boullier replied when asked how much of its schedule McLaren has worked through. "We are maybe less than 50%. But it's better than nothing and at least operationally we have covered everything we wanted.
"The good thing as well is that the car is running, as you saw in the morning, 10 laps in a row so we have no design concept or conceptual issues or architectural issues with the car. The cooling is working, everything is fine."
Having described the initial running early in the day as "a huge relief", when asked if the problems from the first two days are behind McLaren, Boullier replied: "Yes, definitely. 100%.
"[Today] was a completely different [problem]. The reason why we didn't run in the afternoon is different. It's a third party component that created a water cooling leak. We had to take the engine open and everything to change it because it's in the middle. We could have run, maybe, half an hour at the end of the day but we decided to stop the day and run properly tomorrow. The main issues are now away."
Click here for the full gallery from day three of testing at Jerez
Keep up to date with all the F1 news via Facebook and Twitter