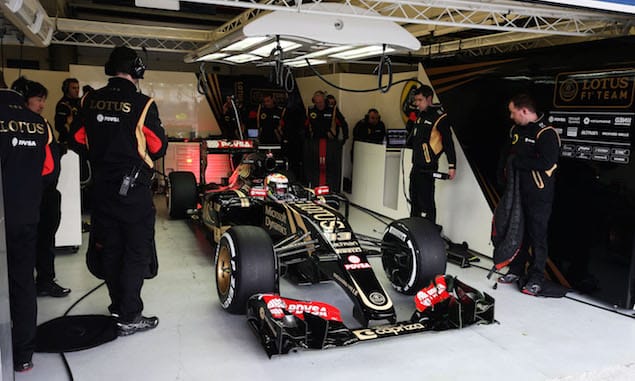 Pastor Maldonado is delighted with the new Mercedes power unit after reliable running for Lotus at Jerez.
Lotus switched from a Renault power unit last season to Mercedes in 2015 and has completed 138 laps over two days at the first test. Having missed the opening day while the car travelled to Spain, Maldonado said he was pleased to be able to complete so many laps early on with the new engine partner.
"I'm more confident with the car, not only me but also the team," Maldonado said. "It's a completely new car, we have a new engine, no data with this car at this track so it's something new, something to discover. It was a very positive day, no problems which was our main focus to show [improvement from] the reliability problems we had last year.
"Most of the reliability problems were down to the engine and not to us, but for sure on our side we had a few problems as well and we wanted to check everything. It's quite positive because it's a new engine, the engine is a fundamental part of the car. Installation-wise was so good and reliability is much better than last year."
And Maldonado says he is sure there will also be an automatic step in performance from the power unit later in pre-season.
"The engine is not at 100% yet because we are not looking for performance. It's still quite heavy with fuel, it's not the time to go for performance. We need to complete a process of different tests and solutions that we have and then in the second Barcelona test we will go for more performance."
Click here for the full gallery from day three of testing at Jerez
Keep up to date with all the F1 news via Facebook and Twitter