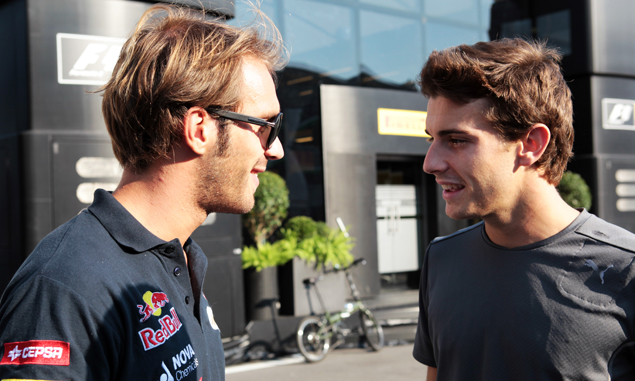 Ex-Toro Rosso racer Jean-Eric Vergne says Jules Bianchi's 2014 Monaco points are "worth more than any win in a Mercedes", as he grieves the death of his fellow Frenchman with whom he rose through the junior categories.
Though one year younger than Bianchi, JEV made his F1 debut one season before the Nice-born driver, who started racing at the top echelon with Marussia in 2013.
"Jules and I knew each other since we were kids," Vergne told French TV news channel I-Télé. "We started karting together. He was 11, I was 10: we progressed towards F1 at the same time. And then we raced together in F1, so I knew him very well."
"I'm a bit lost… [Jules] was a true friend and a person you could really rely on, with whom you could have a chat. He was just an all-around great guy and I had lots of fun hanging out with him. I'm sure everyone in the paddock feels the same way."
While Bianchi only started 34 Grand Prix in his all too short F1 career – securing a best result of ninth at Monte Carlo last year –, Vergne thinks he did more than enough to establish his name in the sport's history.
"As a driver, Jules was a warrior who never gave up. He was extremely talented and proved his mettle to the F1 world.
"Scoring points with a Marussia at Monaco was unanimously hailed in the paddock, and rightly so. These are worth more than any grand prix win in a Mercedes."
"He showed that he was a great champion and could win if given a competitive machine. It would have only been natural to see him in a Ferrari or any other race winning car."
F1 drivers pay tribute to Bianchi after death at 25
Keep up to date with all the F1 news via Facebook and Twitter