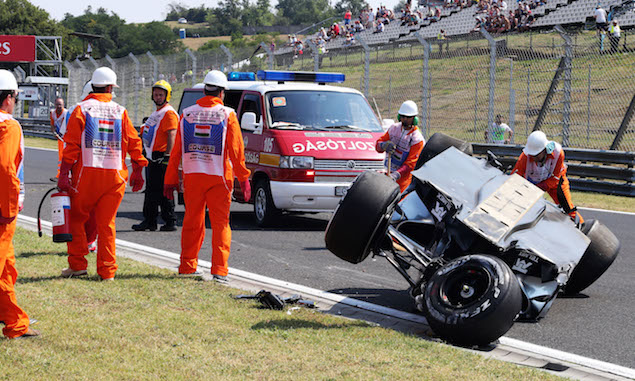 Sergio Perez admits he "was a bit scared" when his car went upside down as the result of a crash during FP1 at the Hungarian Grand Prix.
A failure on the right rear corner of Perez's car saw him pitched in to the wall on the exit of Turn 11, damaging the front of his Force India. A tethered wheel then wedged under the chassis and rolled the car, leaving Perez upside down on the track. While able to climb out unaided and unharmed, Perez says he was worried when the car turned over.
"It was quite a dramatic accident, losing the car at that kind of speed," Perez said. "The impact was not that bad, but when I rolled over I was a bit scared. Getting out of the car was quite a challenge, but thanks to God nothing happened. I am here and looking forward to tomorrow.
"We are still trying to find out, but we can see the rear suspension bent out. We are still analysing to make sure we can run for the next day.
"At that point, I didn't know about the suspension. It was a very strange accident. I was on the Astroturf and suddenly I lost the car. The Astroturf was very dirty at the time but looking at the video I can see the rear suspension just breaks."
And Perez believes Force India was right not to run again on Friday as it investigates the cause of the failure.
"The risk is always there and obviously the team has plenty of information to analyse. I think we made the right decision not to run with Nico until we solve the issue."
REPORT: Hamilton heads Red Bull pair in FP2 hit by another red flag
Click here for a gallery of Sergio Perez's crash in FP1 at the Hungarian Grand Prix
Keep up to date with all the F1 news via Facebook and Twitter