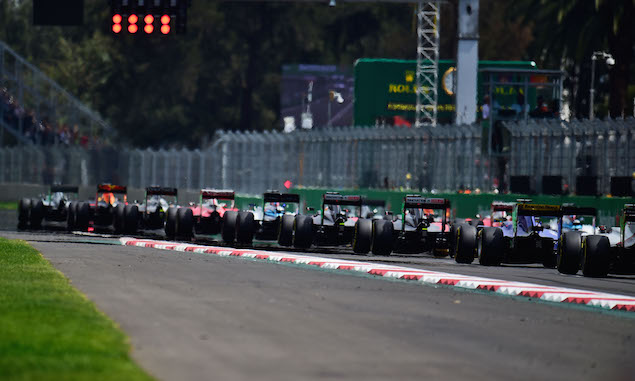 Formula One teams have agreed to have standing starts at the end of each Safety Car period from the 2017 season.
All 11 team bosses met with Bernie Ecclestone on Friday at the Abu Dhabi Grand Prix, with the F1 boss putting the idea forward in a bid to make the show more exciting.
It is not the first time the proposal has emerged, with the idea having already been set for introduction in 2015 before being scrapped when the teams expressed several doubts on how to implement the measure.
However, it appears a consensus has now been reached among all teams, after they came to the conclusion that the start remains the highlight of the race in terms of viewing figures.
"You're absolutely right," Haas team principal Guenther Steiner said when asked about the meeting with Ecclestone. "It spices the show up. That's the good thing.
"We all love starts, there is a risk but where there is also reward - some will win, some will lose. If it brings life into the sport like it was in the old days then there is a long way that we can go."
In order for the new rule to be added to the 2017 regulations, it first needs approval from both the Strategy Group and F1 Commission.
It will then be put forward to the FIA's World Motor Sport Council, whose next meeting is scheduled on Wednesday 30 November in Vienna.
The previous WMSC assembly already rubber-stamped standing starts in wet-weather conditions following several recce laps behind the Safety Car.
REPORT: Hamilton leads Rosberg by just 0.079s in FP2
Silbermann says ... Parting gifts galore
Grosjean column: Magnussen and THAT crash in Brazil
Chris Medland's 2016 Abu Dhabi Grand Prix preview
FEATURE: Hamilton v Rosberg: 2016 F1 drivers' title permutations
Keep up to date with all the F1 news via Facebook and Twitter