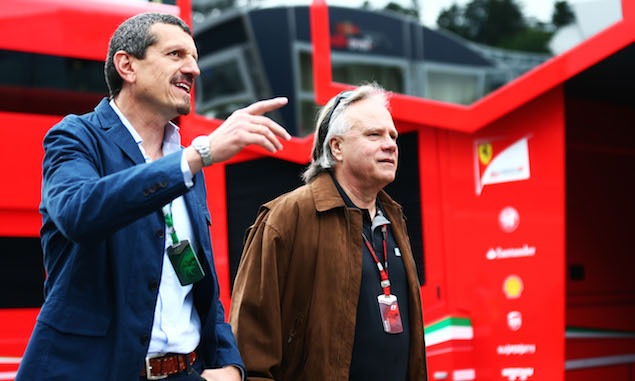 Gene Haas says he hopes that Haas F1 Team's entry into Formula One next season will succeed in making the sport headline news in the United States.
Currently F1 has a small media footprint in North America, with motorsports news tending to be dominated by the domestic NASCAR championship in which Haas also has a business interest as the co-owner of Stewart-Haas Racing with three-time champion Tony Stewart.
But Haas says that he hopes the début of a proudly American team in the championship together with the annual Grand Prix at the Circuit of the Americas in Austin, Texas will capture the public imagination in the US in the same way that women's soccer has now become a breakout hit in the country following the national side's World Cup-winning performance in July.
"I think the bigger influence we've had is on this nationality rivalry - of basically an American team now is going to compete with the Germans and the Italians," said Haas, speaking at the 2015 FIA Sport Conference at the end of July.
"I think that has much more international interest than, say, what we do as a team to the other teams, because let's face it Formula One is an international motorsport.
"I'm hoping that we can have the same effect in the United States for Formula One because all of a sudden there is an American Formula One team and it will be the home team and people are going to cheer for us.
"An example is the women's soccer team in the US, I didn't even know who that was until they won this soccer event and that was front-page news and cheers, cheers, cheers!"
Haas is a hard-headed entrepreneur with a thriving machine tools business, and Formula One is no hobby or side line as far as he's concerned but rather a integral part of how he intends to grow his company and make money in the future.
"It's part of our business plan to expand our marketing and sales in all of the rest of the world. We have a good domestic market and we use NASCAR for that format, so it's basically just an expansion of that same business model for the rest of the world."
Haas is also drawing upon experience of his 12 years of team ownership in NASCAR - which has resulted in two Sprint Cup drivers' championships - in the way that he's setting up the new Haas F1 Team, working with established and experienced suppliers like Ferrari who will be providing power units and technical expertise to help Haas get on the grid in time for 2016's first race.
"I think our first business model is to do what we do in NASCAR - we run a racing team and our primary purpose is to win races. We procure engines and chassis from other suppliers but we do build our own sheet metal, we do our own aero," he explained. "It'll be a very similar model for Formula One."
As for why Haas went into partnership with Ferrari, Haas said they were simply the best fit that he and team principal Günther Steiner had found when they did the grand tour of potential alternative Formula One partners.
"When we started off, Günther Steiner made enquiries to various suppliers, and various suppliers had various programmes. Ferrari seemed to have the best overall programme. They had an interest in what we were doing, more so than say other ones. That relationship just seemed to work best for us."
Asked if he would like to see the option of customer cars in Formula One, Haas seemed cool on that specific idea but suggested the way that he was approaching the sport might represent and new way to team ownership in Formula One that might lead the way for others to follow.
"Right now the rules don't allow that so that's obviously not something we're going to do. But I think we have to learn, I think there has to be a reason for Ferrari to want to help us and I think this maybe be a new model.
"Why should a bigger team want to help a smaller team? There's has to be a some sympathetic relationship there where one benefits from the other, and in most situations right now the way it's written there's no real benefit for a bigger team to help a smaller team - so they don't."
Haas unsure he can snatch Hulkenberg for 2016
Haas questions F1 teams' constructor status
Click here for our exclusive interview with Force India's Sergio Perez
Keep up to date with all the F1 news via Facebook and Twitter