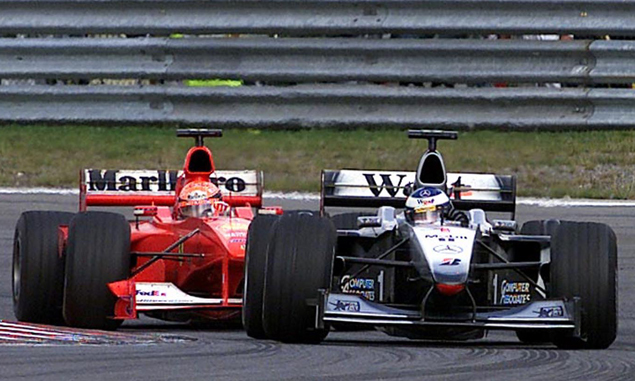 Two-time F1 world champion Mika Hakkinen hails his 2000 Spa-Francorchamps duel with archrival Michael Schumacher as his "most memorable" Belgian Grand Prix.
The pair's championship battles electrified the late 90s with the fight extending into the new millenium. Although the Ferrari ace won the first three races to seize an early lead, the Flying Finn reclaimed the top spot by mid-August with a victory at Budapest. Then came Spa.
"My most memorable Belgian Grand Prix was undoubtedly the 2000 race," wrote Hakkinen in his latest McLaren-Honda blog entry. "I had won the world championship in both 1998 and 1999, and in 2000 my McLaren-Mercedes was as quick as ever, albeit not always quite as reliable as it had been in the previous two seasons.
"Nonetheless, I arrived at Spa at the head of the world championship standings, and in an optimistic mood. My principal rival, as ever, was Ferrari's Michael Schumacher, just two world championship points behind me."
Hakkinen stormed to his fifth pole position of the season in Belgium, while the Red Baron had to settle for fourth. A typically local drizzle ensured the race started behind the Safety Car before the McLaren star made the most of a clear track ahead to pull away in front.
Always revelling in wet conditions, Schumacher started making headway and soon hoisted his Ferrari up to second place. The German then further put the hammer down as he set about chasing Hakkinen.
Feeling the pressure, the Finn spun on Lap 13, which handed his title rival the lead. Schumacher initially opened a nice gap but saw the #1 McLaren loom in his mirrors as the track went dry in the closing stages.
On Lap 40, Hakkinen had a look on the inside of the Ferrari on Kemmel straight only to be rebuffed by a borderline chop. Next time around, the reigning double world champion pulled off what still remains one of the greatest overtaking manoeuvres in the sport.
"As we approached Les Combes, ahead of us I spotted Ricardo Zonta's BAR-Honda, which we were about to lap.
"I thought to myself, "Whichever way Michael goes, I'll go the other." He went to the left, so I went to the right, braking as late as I dared, off-line, on a still-damp track, at 300km/h (186mph). As I turned in, I had done it; I had passed Michael; I had retaken the lead.
"Through the next few turns Michael tried his best to harry me into a mistake, chucking his Ferrari around from left to right behind me, in an effort to unsettle me.
"He was always such a committed battler, a real racer in fact. But I held my nerve, whispering under my breath "Mika, keep calm, keep calm, keep calm."
"By the end of the 44th and final lap, I was still 1.1s ahead of him.
"Job done. Great win. Fantastic day."
Exclusive Q&A with Red Bull team principal Christian Horner
Click here for a gallery of the biggest crashes at Spa-Francorchamps 
Keep up to date with all the F1 news via Facebook and Twitter