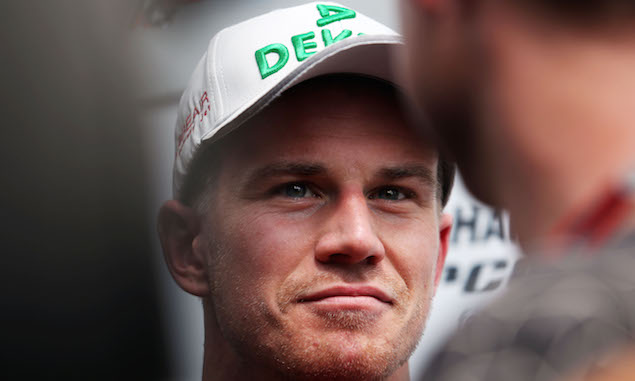 Nico Hulkenberg says he is not surprised by Ferrari's decision to retain Kimi Raikkonen and still has "a few good options" for 2016.
Ferrari opted to keep Raikkonen despite the Finn struggling compared to team-mate Sebastian Vettel so far this season. Hulkenberg had been linked with a potential move to Maranello after another strong season which has also included victory at the Le Mans 24 Hours.
Having said he could see Ferrari would retain Raikkonen, when asked if the decision has a bearing on his future, Hulkenberg replied: "I'm not sure.
"Obviously that seat is taken, but the rest I think there are still a few good options for me out there. I'm pretty confident that I can put something good together and that I will be here next year in a good car."
Having been named as a target for Haas when it enters F1 next season, Hulkenberg says he is not ruling out a move to a new team.
"Obviously it depends on what options you have and how many. But this is the time of year obviously when you talk to everyone and you assess your options. You put things how you like them and then you make a decision when the time is right. But at the moment I'm working quietly in the background and preparing everything, yeah."
Chris Medland's Belgian Grand Prix preview
Click here for a gallery of the biggest crashes at Spa-Francorchamps 
Keep up to date with all the F1 news via Facebook and Twitter