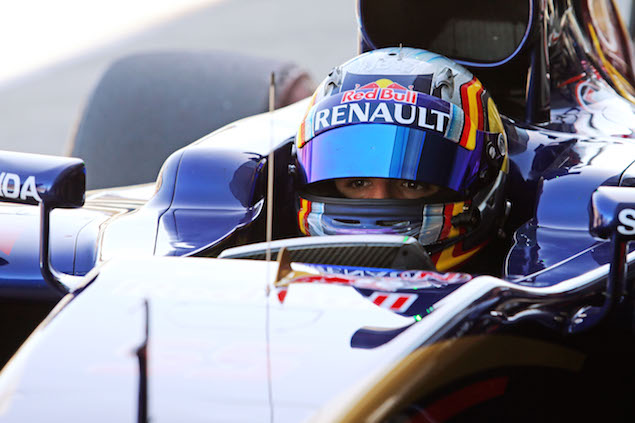 Carlos Sainz Jr says the aim for his first season in F1 is "to look the least rookie" throughout the year.
Toro Rosso will field an all-rookie line-up of Sainz Jr and Max Verstappen, with Felipe Nasr also set to start his first grand prix in Melbourne driving for Sauber. Daniil Kvyat steps up to Red Bull this year after just one season in F1 and Sainz Jr says his focus is to ensure he makes fewer mistakes than other inexperienced drivers on the grid.
"I would say my main target is to look the least rookie as possible," Sainz Jr told F1i. "Obviously I am going to be a rookie, I will make rookie mistakes but I would like to show everyone that even if I'm a rookie then I make the least rookie mistakes as possible.
"I think this is already a tough thing to achieve. To be consistent in your first season in Formula One should be my main target. Where I'm going to finish I have no idea. This will depend on how the first race goes in Australia, where we are and where we will be fighting for the rest of the year."
With his father being two-time World Rally Champion Carlos Sainz, the younger Sainz says he is hoping to make sure people acknowledge him as a driver in his own right.
"It's the case of stopping people saying I'm 'the son of', but he will never be 'the father of'! He will always be Carlos Sainz in rallies, and hopefully now you will have a long version of Carlos Sainz in Formula One. That's good because it would have been very easy to compare me with my dad if I had gone rallying. Now it's impossible to compare us; it's a completely different discipline and you can have the two versions now."
Feature - Carlos Sainz Jr: Racing with your hero
Click here for the full gallery of the first photos of the STR10
Keep up to date with all the F1 news via Facebook and Twitter