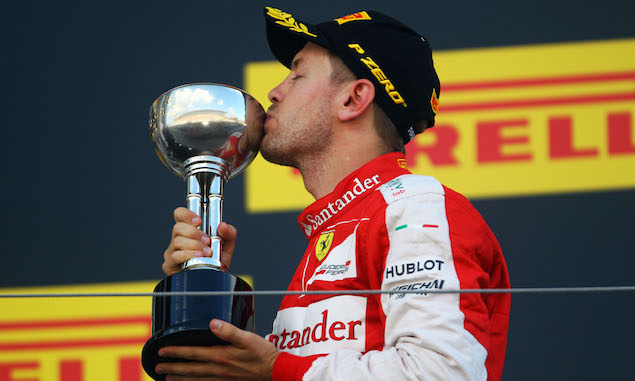 Sebastian Vettel says he will continue to target winning this year's drivers' championship despite the lead currently enjoyed by Lewis Hamilton.
Victory for Hamilton at the Japanese Grand Prix saw the defending champion extend his lead to 48 points over team-mate Nico Rosberg and 59 points over Vettel. With 125 points still available, Vettel remains in with a mathematical chance of winning a fifth title and he says it would send out the wrong message if he conceded to Mercedes prematurely.
"It's not done until it's done," Vettel said. "So, the chance is there – and what kind of racing driver would I be if I stopped believing? So, of course I know it's difficult because the opponent is very strong.
"They are currently in stronger form than us, so it's not easy to turn things around when you are behind – but you have to keep believing otherwise I guess it's pointless rocking up and trying to fight. I think there's always a chance on Sunday."
And Vettel says Ferrari has to ensure it performs to its very best in the remaining five races to capitalise on any trouble for Mercedes.
"Being realistic, as I said, I think it will be very, very difficult but who knows what's going to happen. We have to do our thing and that's the maximum we can do. Everything else is not in our hands, it's probably in their hands."
Time is running out for Toro Rosso, Franz Tost tells F1i
CONFIRMED: McLaren retains Button for 2016
Take a look at the technical updates from Singapore and Japan