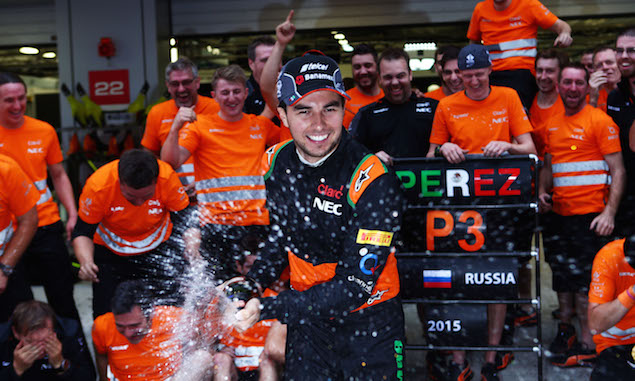 Force India team principal Vijay Mallya says he was convinced the team's B-spec car would allow it to "do something special".
Sergio Perez finished third in last weekend's Russian Grand Prix to give the team its first podium of the season, coming off the back of a run of four top-seven finishes for at least one of the cars. Having seen such an upturn in form since Force India introduced a B-spec car at Silverstone, Mallya says he was convinced a big result was possible.
"We travel to Austin full of energy and optimism following Checo's fantastic podium in Sochi," Mallya said. "The car was strong, our strategy was good, and Checo didn't put a wheel wrong. You could see from our post-race celebrations just how much the result meant to everyone in the team and it's a welcome reward for everybody's hard work this year. It's very satisfying to get some more silverware for our trophy cabinet at Silverstone.
"Over the winter I said that the target was to achieve podiums in 2015. That may have seemed like an over-optimistic objective, but ever since the introduction of the B-spec car I knew that we had the potential to do something special. We may have had a little good fortune in Sochi, but I believe you make your own luck and we worked hard to seize the opportunity and bring the result home."
And Mallya says recent announcements and improvements at Force India fill him with confidence it can enjoy a strong end to the season.
"There is a lot of positive energy in the team at the moment. We've confirmed both Nico and Sergio for next year and that continuity is important for us. They are very closely matched and they push each other hard. I believe that having healthy competition within the team is a good thing and will help drive the team even further forward.
"The next race in Austin is one of my favourites. They always put on a great event and the fans show lots of enthusiasm for our sport. Luck wasn't on our side there last year, but there is every reason to believe we can be competitive this year and build on the momentum from Sochi."
Toto Wolff exclusive interview: Behind the Mercedes dominance
Click here for analysis of the technical updates on display at the Russian Grand Prix
Click here for the F1 drivers' girlfriends gallery
Keep up to date with all the F1 news via Facebook and Twitter