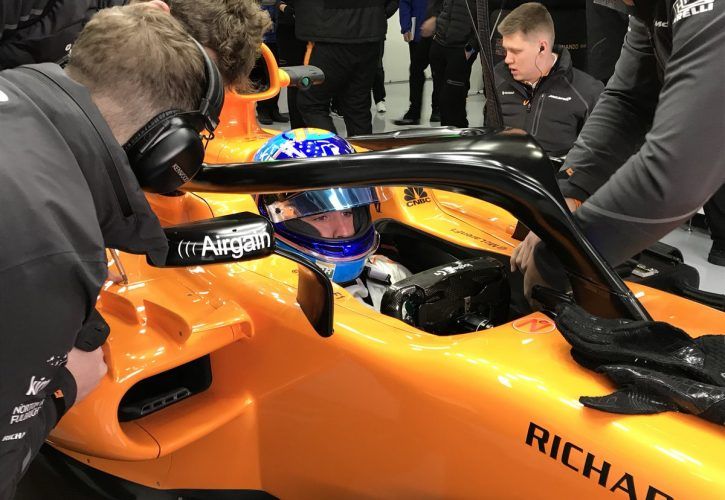 McLaren's Fernando Alonso dismissed the team's lack of running in winter testing, insisting the set-up work done by rival teams will mean nothing when everyone heads out on to the track in Australia.
The Woking-based outfit suffered a difficult time in Barcelona as reliability issues put the team on the back foot last week and impacted its testing programmes.
McLaren was the outfit with the lowest overall lap count in winter testing, although a last ditch effort by Alonso in the final 30 minutes of Friday's session enabled the Spaniard to clock in with the third fastest time overall.
The two-time world champion who, like his team, is looking for a rebirth this year has discounted the impact of McLaren's limited mileage on its chances in Melbourne.
"I think more or less the teams are now capable and ready to understand and prepared for the simulator work you will face in Australia," Alonso said.
"Definitely the setup work that you do here in Barcelona means nothing so I am not worried to lose half a day because whatever setup optimisation you do here will mean nothing for Australia.
"It will also not mean anything for May when you come here and it's 30 degrees."
Alonso did lament however the team's deficit in terms of learning about Pirelli's wet weather tyres which could throw a spanner into everyone's works if rain shows up in the first few races.
While there was no shortage of adverse conditions during the first week of pre-season testing, freezing temperatures prevented teams from undertaking any significant testing on the specific wet rubber.
"I think the bad weather was a big factor, especially because we could not test the wet tyres," he said.
"Normally they do some programmes for the races and some safety car starts and things like that. It was that cold that we could not develop the wet tyre either.
"Hopefully that will not have any consequences on the first races if they are wet and the tyres behave."
Gallery: The beautiful wives and girlfriends of F1 drivers
Keep up to date with all the F1 news via Facebook and Twitter