Lewis Hamilton's career earnings in Formula 1 have now surpassed the amount of big bucks raked in by seven-time world champion Michael Schumacher.
According to estimates published by Forbes recently, Hamilton's career earnings stand at approximately $489 million, or $25 million more than the amount Schumacher brought in over the course of his almost 20-year career in Grand Prix racing.
The numbers are based solely on drivers' salary and do not include income from personal sponsors or various endorsement deals.
Forbes states that Schumacher's salary peaked at an estimated $38 million in 1999, during his fourth season with Ferrari.
Adjusted for inflation, the figure is superior than the approximate $40 million retainer currently enjoyed by Hamilton with Mercedes.
Overall, Hamilton's longevity coupled with various lucrative business deals such as his partnership with fashion company Tommy Hilfiger have likely put the Brit comfortably ahead of Schumacher in terms of net worth.
Two-time world champion Fernando Alonso isn't far behind his two former rivals I terms of career earnings, the Spaniard drawing in an estimated and healthy $458 million, while four-time world champion Sebastian Vettel is out-earned by a lofty $100 million!
While a world championship title, let alone several, guarantees a lofty net worth for a driver, Formula 1's club of top-10 earners isn't populated exclusively with men who have been crowned.
Indeed, Grand Prix winners Ralf Schumacher, Felipe Massa and Rubens Barrichello have earned themselves big bucks without ever winning the championship.
Check out the list of Formula 1's top-ten all-time earners.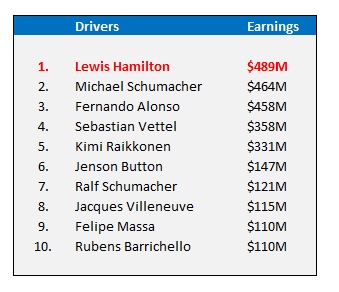 Gallery: The beautiful wives and girlfriends of F1 drivers
Keep up to date with all the F1 news via Facebook and Twitter