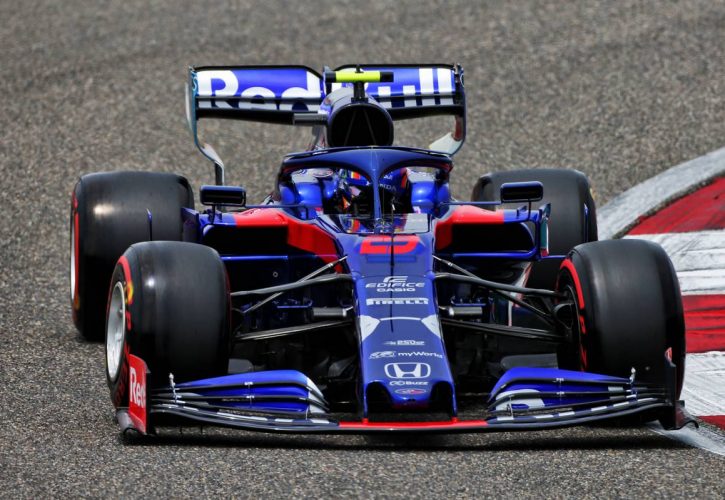 Alex Albon superbly turned around his fortunes on Sunday, delivering a championship point to Toro Rosso in Shanghai after starting his race from the pitlane.
A big mishap in free practice on Sunday saw Albon smash his STR14 into the wall, a mistake that damaged his chassis beyond repair and forced his Toro Rosso crew to build up a new car.
The 23-year-old launched his race from the pitlane but a flawless drive and a one-stop strategy allowed the British-Thai racer to upstage more than half of his mid-field rivals and conquer a tenth-place finish!
Albon was voted 'Driver of the Day' by Formula 1's fans, but the rookie was quick to commend those who, through their tiring efforts, had made his day.
"It's still a little bit weird to me because you don't really follow the race when you're doing it," he said.
"They [the team] told me 10th and I thought 'Okay that was a good race'. Then when I came in they said 'That was a really good race' so I guess it was quite good!
"I'm really happy. I guess it's just a big thank you to the team, because after FP3 it was looking a bit gloomy, shall we say, and I was a little bit downbeat.
"Replacing the chassis, the guys did a really good job last night, so this is for them. This point is very well deserved I think."
The closing stages of Albon's race saw Haas' Romain Grosjean - running on fresher tyres - hound the Toro Rosso driver for all his worth.
"It was a bit 'squeaky bum time' with Grosjean coming at the end, but I think the backmarkers played a good part in that," said the star of Sunday's race.
"I was thankful that everyone was catching us and happy to hold him off.
"We were not in disbelief but a bit skeptical we were that good after FP2. I know in our briefings we knew we were good, but were we that good?
"But yeah, we were really good on tyres. We showed it a little bit in Bahrain – I knew we were good on tyres there too. So I'm happy."
Gallery: The beautiful wives and girlfriends of F1 drivers
Keep up to date with all the F1 news via Facebook and Twitter