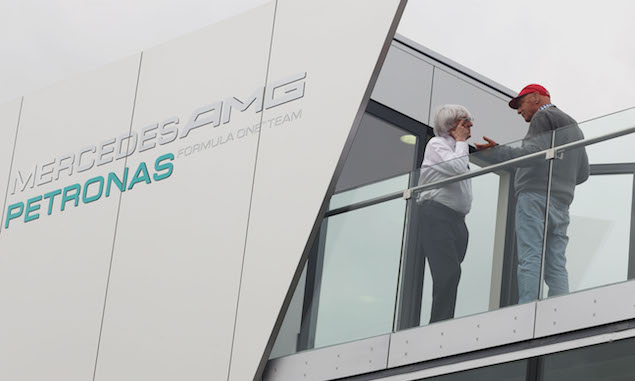 Former F1 supremo and Brabham team owner Bernie Ecclestone will not be present at Niki Lauda's funeral scheduled to take place this Wednesday in Vienna.
Lauda, who was 70-years-old, passed away in Switzerland last week from health complications linked to the lung transplant he underwent last summer.
Ecclestone mourns the loss of the triple world champion who drove for the Brit's Brabham team in 1978 and 1979 but said that he would not shy away from his current policy of avoiding friends' funerals.
"I do not want to see Niki dead. He lives on for me," the 88-year-old told Germany's Bild.
"I visited Niki with Fabiana at the clinic in Switzerland at the end of April. Then you noticed how weak he was. We knew he would not come back to a normal life."
Lauda and Ecclestone were frequently in contact with each other after the latter's departure from the helm of Formula 1, and the Mercedes non-executive chairman even convinced his friend to buy a house in Ibiza where Lauda spent most of his down time.
Indeed, Bernie and Fabiana visited the Austrian on the Balearic island during his post-transplant recovery period and spent New Year's eve with Lauda and his wife Birgit.
"It seemed to improve," Ecclestone said, speaking of the F1 legend's health at the time.
"After that, Niki suddenly got worse and worse.
"As sad as we all are, it was, I think, good for him, that he did not have to suffer any longer."
Lauda's funeral will take place at Vienna's St. Stephens 800-year-old cathedral. Austrian president Alexander Van der Bellen is expected to attend the service as well as reigning world champion Lewis Hamilton.
Gallery: The beautiful wives and girlfriends of F1 drivers
Keep up to date with all the F1 news via Facebook and Twitter