Mercedes' Andrew Shovlin says the decision to switch Lewis Hamilton to the medium tyre during the Monaco Grand Prix was dictated by warm-up fears linked to the hard compound.
The deployment of the Safety Car in Sunday's race after just ten laps enticed the front-runners to go for an early tyre change.
Among the leaders however, Hamilton was the only driver to head back out on track on a set of medium tyres, while followers Max Verstappen, Sebastian Vettel and Valtteri Bottas were shod with Pirelli's hard rubber.
For 67 laps, Hamilton was challenged to make his medium tyres outlast the manufacturer's recommended 50-lap lifespan while also dealing with the massive pressure exerted by Verstappen in the closing stages of the race.
The reigning world champion fortunately made it stick, but after the race he entered Mercedes' debrief room and facetiously soaked race engineer Shovlin with champagne, saying "That's for keeping me on those f…… medium tyres for 67 laps!"
"The Safety Car was earlier than we would have liked and with hindsight, we should have fitted the hard tyre, but we were concerned about the warm-up on the restart, which was why we took the Medium," Shovlin later explained.
"That obviously made life difficult for Lewis and we'll review our decision-making and the information that we had at the time.
"We're grateful that Lewis was able to manage it so well to the end as he really had to work for the victory."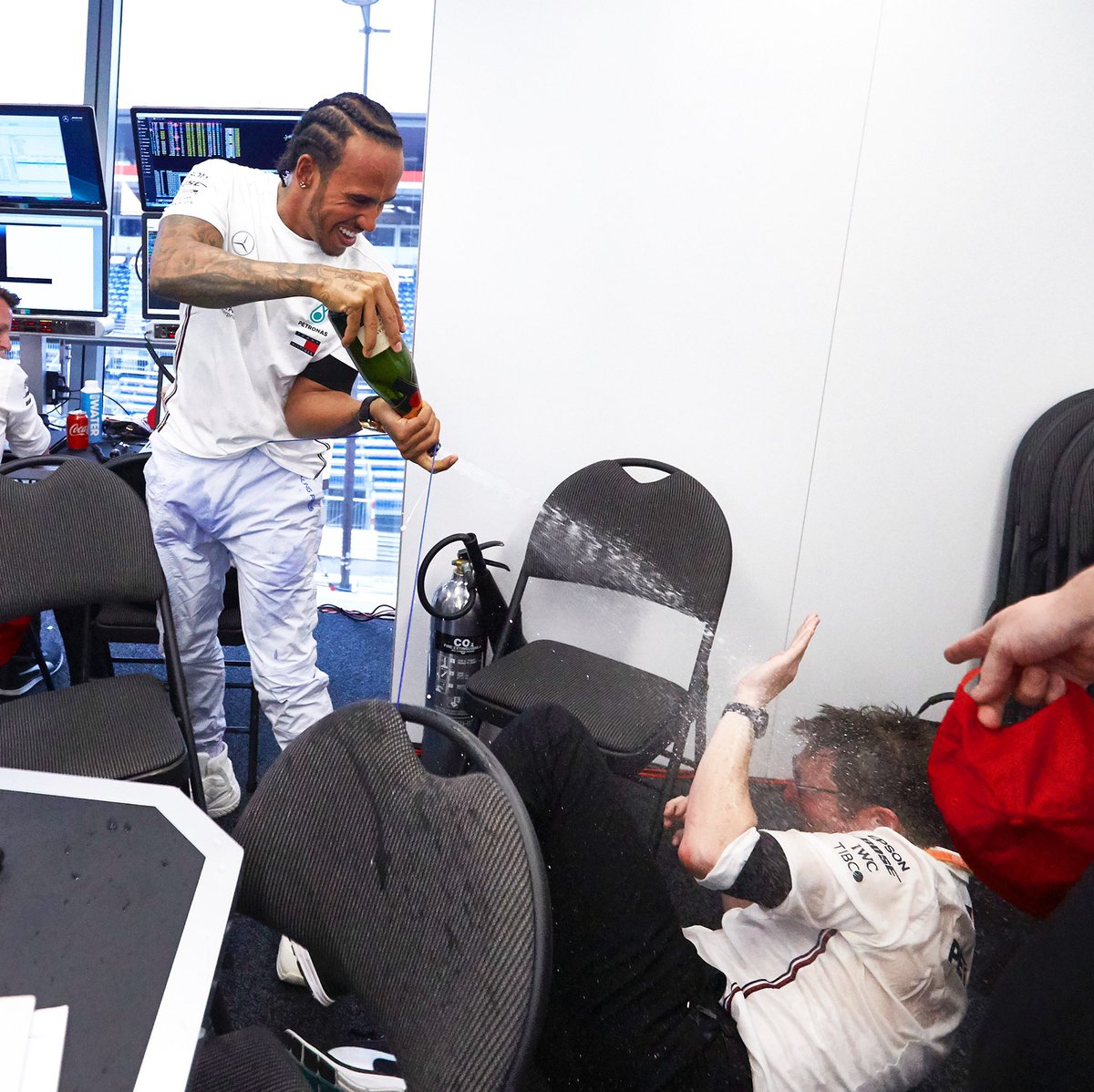 Bottas was spared his team mate's 67-lap ordeal on the medium compound, but only because the Finn was forced in to a second stop after enduring a puncture in the pitlane as a result of his run-in with Verstappen.
"Valtteri's race was also compromised at the Safety Car," added Shovlin.
"We felt the release from Red Bull was ok, but Max had room on the left to give Valtteri more space rather than putting him into the wall.
"That broke the front right wheel rim and caused a puncture, so we had to pit for a new set. From there his opportunities were rather limited.
"The car had good pace, but you simply can't pass here and Valtteri had a frustrating race stuck behind Vettel.
"It was some consolation that Valtteri was able to get back on the podium after Max had the time penalty applied."
Gallery: The beautiful wives and girlfriends of F1 drivers
Keep up to date with all the F1 news via Facebook and Twitter