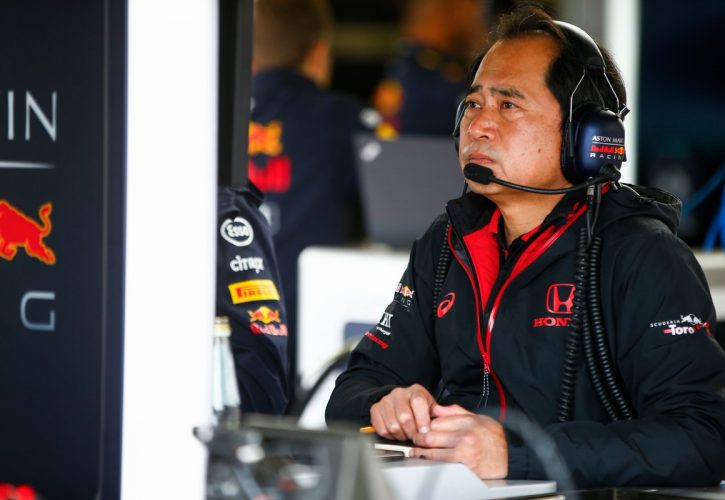 Honda F1 boss Toyoharu Tanabe believes the good performance enjoyed by the engine manufacturer at Silverstone last time out sets it up nicely for Hockenheim.
Honda put three of the four cars it powers in the top ten at the British Grand Prix with Red Bull's Pierre Gasly and Max Verstappen finishing fourth and fifth at Silverstone.
Beyond the result however, Tanabe noted the similarities that exist between the Northhamptonshire track and Hockenheim in terms of engine usage, a comparison that bodes well for Honda in Germany.
"It's a busy time, immediately prior to the summer break," Tanabe said.
"Hockenheim is one of the classic old tracks on the calendar and can be considered a power circuit because of the long straights in the first half of the lap.
"Therefore, in terms of the demands it places on the PU, it has some similarities with the last round at Silverstone, because much of the lap is at full throttle.
"That is encouraging, as we performed well there, therefore we will be working hard to try and secure another good result this weekend."
Red Bull team principal Christian Horner echoed Tanabe's optimism, believing Hockenheim should suit the outfit's RB15 chassis much better than Silverstone where the emphasis was on the engine.
"We have confidence going to Hockenheim given the performance [at Silverstone]," said Horner.
"After Monza it is one of the most power sensitive circuits on the calendar. You are flat out on the lap for pretty much the equivalent of the entire Barcelona lap.
"So that is encouraging for us, and certainly for a circuit like Hockenheim that is less power sensitive."
"To be that close to Mercedes around that type of track that we know is power sensitive, and to be able to follow the Ferraris as close as we were able to through Maggotts, Becketts and Copse, Max was able to take some serious momentum behind the Ferraris there, and that is usually the sign of a pretty decent car."
Gallery: The beautiful wives and girlfriends of F1 drivers
Keep up to date with all the F1 news via Facebook and Twitter