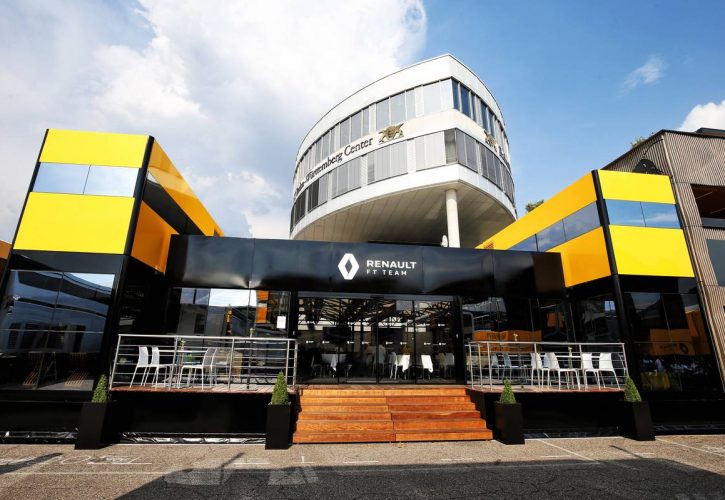 Renault has announced that the crash suffered by one of its team truck's on Monday hasn't affected its preparations for this weekend's Hungarian Grand Prix.
Renault's transporter, which had left Hockenheim the evening before, crashed into a motorway barrier near Gyor, about 120 km from Budapest.
The driver was taken to a local hospital with minor injuries and has since returned home, according to an update issued this morning by the French team.
"The driver of the Renault F1 Team truck involved in a road traffic accident in Hungary on Monday continues to make good progress and has returned home," Renault stated.
"The goods being transported were not damaged and the team's preparations for the Hungarian Grand Prix this weekend have not been affected. We look forward to getting the weekend underway."
Renault endured a dismal German Grand Prix, with Daniel Ricciardo sidelined early on by an exhaust failure while Nico Hulkenberg was solidly positioned among the top four when he was caught out by the treacherous conditions a few laps after the race's midway point.
"We left Hockenheim with a bitter taste as, in exceptional races like Sunday's, you can really pick up some big points," said Renaut F1 boss Cyril Abiteboul ahead of this weekend's Hungarian round.
"We have another chance in Hungary to demonstrate what we can do, and I know both drivers are motivated to deliver on the potential and go into the summer on a positive.
"We had a small taste of what it feels like to be up at the front on merit and this is just the motivation we need heading towards the summer break."
Abiteboul's "bitterness" was matched by that of Hulkenberg who squandered his chances of finally securing a podium finish after 167 races in F1 when he was caught out by the track conditions.
"It was a bitter one and I'm very disappointed for the team and myself," Hulkenberg said.
"We were doing a very good job in difficult conditions. It hurts, but we have the opportunity for an immediate comeback this weekend in Hungary. I'm determined as ever for a strong result."
Gallery: The beautiful wives and girlfriends of F1 drivers
Keep up to date with all the F1 news via Facebook and Twitter