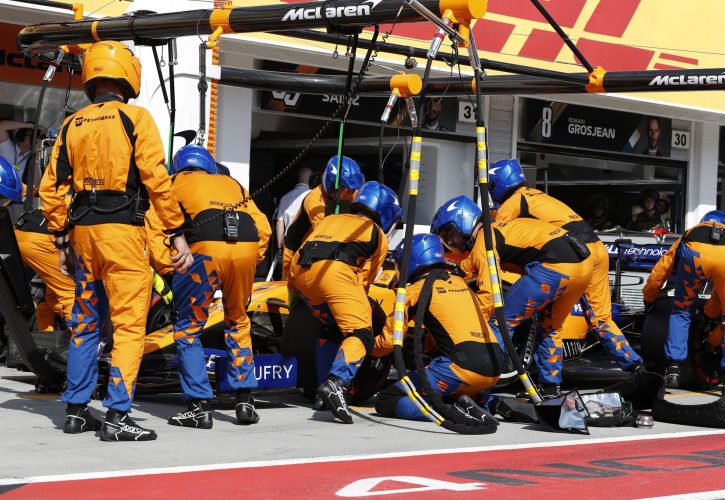 According to McLaren, a wheelgun failure was to blame for Lando Norris' seemingly endless pitstop that prevented the young Brit from finishing higher than ninth in Sunday's Hungarian Grand Prix.
McLaren upheld its impressive form at the Hungaroring with Norris and teammate Carlos Sainz qualifying P7 and P8.
The Spaniard gained an upper hand on Norris at the start and drove a flawless race to secure a second consecutive P5 finish, beating on merit Red Bull's Pierre Gasly.
Norris could have followed his teammate across the finish line and help deliver to McLaren its best result of the year in Hungary, but a wheelgun malfunction during his single pitstop foiled that plan.
"Everything was going well, I was just on the limiter ready to go," recalled Norris, speaking to Sky F1.
"It's not going green, it's still not going green and it feels like its taking ages. It was our only mistake, which cost us obviously a lot."
McLaren F1 boss Andreas Seidl owned up to the team's mistake and apoligised to Norris after the race.
"Unfortunately, we had an issue with the left rear wheelgun which caused a delay in the tyre change," said Seidl.
"In the end that lost him two positions, plus allowed Bottas to get close to him in the race and get him as well.
"Sorry from our side to Lando that he was unlucky, because in terms of driving he pulled off a great performance. But these things happen in racing."
Despite the setback, Norris said he was happy to sign off for the summer break with "a glass half full".
"There was good potential, the car got a good result, so there's a lot of positives and just one negative," he added.
"It happens sometimes and it's just that the pitstop wasn't great on my car. Generally, the team have done a very good job, and I have to give them a lot of credit.
"They've done a very good job all season, especially compared to last season, where they were struggling a bit more in the pitstops. So we still made good progress, just today was a one off."
Gallery: The beautiful wives and girlfriends of F1 drivers
Keep up to date with all the F1 news via Facebook and Twitter