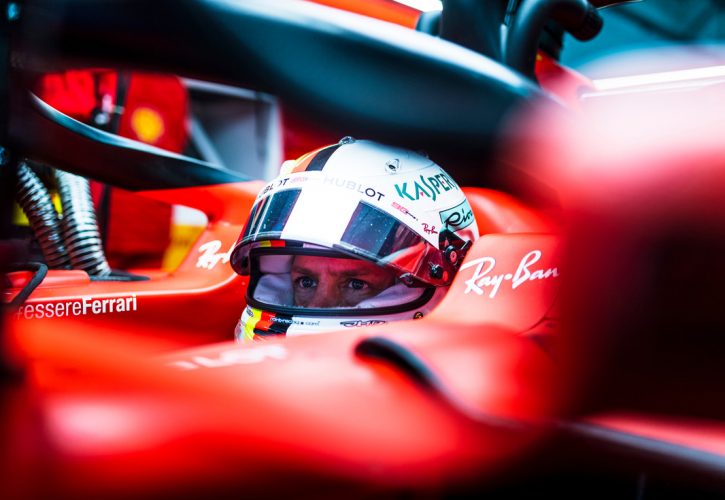 Jacques Villeneuve says Sebastian Vettel is a victim of an irreversible shift of energy at Ferrari, insisting the German's struggles will likely continue.
In the first half of the 2019 season, the balance of power between Vettel and Charles Leclerc weighed slightly in favour of the four-time world champion.
But after the summer break, Leclerc's four consecutive pole positions and two wins, at Spa and Monza, set in motion the Monegasque's inexorable rise, and a change of the internal dynamic at Ferrari.
"The energy is not right," Villeneuve told Motorsport-Total.com.
"Everyone wants Leclerc, Leclerc, Leclerc, the media, the fans ... and you cannot do anything about that.
"It does not matter how well you drive, you're on the wrong side of the energy, and if it's like this, you're suffering for a while, that's a law in this sport."
Pundits have suggested that the characteristics of the Scuderia's low-downforce SF90 are better suited to Leclerc's style while Vettel has struggled to extract the full potential from the car.
However, Villeneuve rubbished that claim, insisting that Ferrari's 2019 contender was partly designed based on Vettel's input.
"It has nothing to do with the concept of the car," added the Canadian.
"The car was designed with feedback from the drivers who drove before, and these were Vettel and Raikkonen - not Leclerc.
"So he [Vettel] has his share in the design of this car."
Villeneuve suggested that Vettel may still be feeling the impact of his demise from last year's German Grand Prix at Hockenheim, when he crashed out of the lead, a mishap that had significant repercussions on his title fight with Lewis Hamilton in 2018.
"Of course, because you make a mistake and you know that you are to blame yourself, which probably changed the entire championship - also psychologically," Villeneuve said.
"The whole media and fans are talking about it, so you feel the pressure, of course, that has an impact."
Gallery: The beautiful wives and girlfriends of F1 drivers
Keep up to date with all the F1 news via Facebook and Twitter