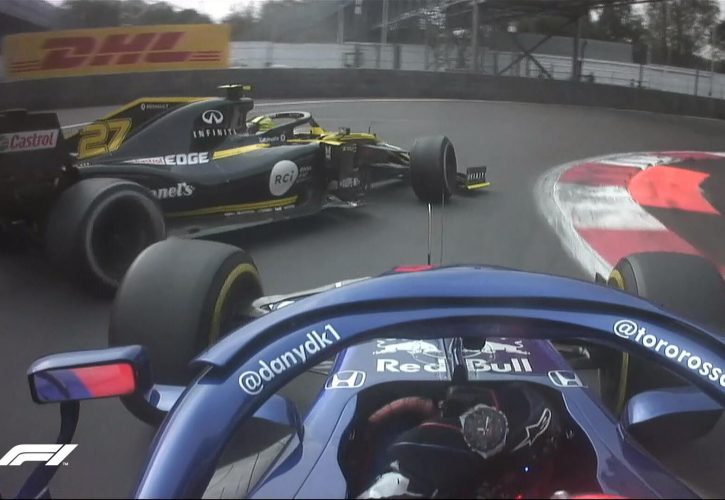 Daniil Kvyat was hit with a 10-second time penalty by the Mexican Grand Prix stewards for his last lap move on Nico Hulkenberg, a sanction that throws the Toro Rosso driver out of the points.
There was no hesitation by the stewards who immediately opened an investigation into Kvyat's desperate overtaking attempt on Hulkenberg.
The two drivers were battling for P9 with the German leading his rival out of the stadium and into the final corner when Kvyat attempted a vain pass on the inside of the Renault.
Contact ensued however and the Hulk was pitched into the barriers. The Russian went on to finish ninth on the road while Hulkenberg eventually made his way to the checkered flag and to a pointless P11.
The stewards swiftly ruled on the incident and punished the Toro Rosso charger whose time penalty demotes him to 11th while Hulkenberg salvages 10th and the final championship point.
Needless to say, the two drivers didn't exactly see eye to eye when it came to their on-track encounter.
"There's not much to say about the final corner incident," said Hulkenberg.
"We were running in ninth, but I had no grip, I was pushed by Daniil and it doesn't take much to spin. It was a shame as it cost us an extra point."
Kvyat believed his move legitimate, however.
"I'm quite upset with the penalty I received because as a racing driver, I disagree with it because we are told we are allowed to race," said the Russian.
"Nico was defending and I was attacking, and these things happen, especially on the last corner of the last lap."
Gallery: The beautiful wives and girlfriends of F1 drivers
Keep up to date with all the F1 news via Facebook and Twitter