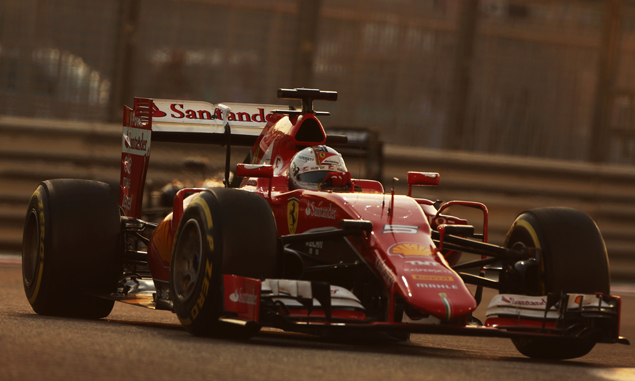 Sebastian Vettel fell close to matching Ayrton Senna's 80-podium mark at last week-end's Abu Dhabi Grand Prix, but the Ferrari driver says he still has time ahead of him.
The German already drew level with the F1 legend in terms of grand prix wins by securing his 41st career victory in Hungary last summer. He then went one better in Singapore.
Vettel and team-mate Kimi Raikkonen entered the 2015 season finale with 79 podium finishes apiece, but a botched qualifying session forced the 28-year-old to start from 15th. Although the ex-Red Bull ace recovered to fourth, it was eventually the Finn who managed to match Senna's top-three record with P3 at Yas Marina Circuit.
Asked whether equalling the Brazilian icon would bear a special significance to him, Vettel replied:
"Senna is a great champion, and Kimi is a great champion. Obviously Senna is a special champion because unfortunately he is not around anymore. He will always be remembered in a very strong way.
"I feel very lucky that I have the opportunity to race with great teams and great cars and to finish on the podium and to match some of these great drivers. Right now it is maybe not that important, but when I am a little bit older, maybe it is a nice thing."
As for 36-year-old Raikkonen now having one more F1 podium than him on his resume, Vettel added in a smile: "Well I have a little bit more time [in the sport] probably, if you look at my date of birth."
Among the current drivers, Fernando Alonso has the most podium finishes with 97, then comes Lewis Hamilton on 87, with Raikkonen ranking third just ahead of Vettel.
Abu Dhabi Grand Prix - Quotes of the weekend
Abu Dhabi Grand Prix - F1i's driver ratings
Use the red tabs on either side of the screen to scroll through more Formula One news and features
Click here for exclusive pictures of the Ferrari power unit
Keep up to date with all the F1 news via Facebook and Twitter