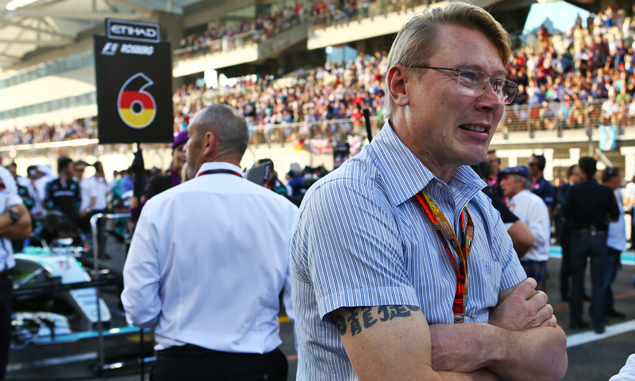 Former two-time F1 world champion Mika Hakkinen believes Valtteri Bottas' patience at Williams will be rewarded.
Despite securing third in the Constructors' championship for the second consecutive year, the British team has seen the gap to the front grow while also slipping behind Ferrari in the pecking order.
Having missed the opening round in Australia due to a lower back injury, Bottas delivered a steady 2015 campaign though he only had a pair of podium finishes when he had claimed sixth in 2014. The Finn had also scored 50 more points and finished one position higher in the Drivers' standings with P4.
"It is only natural for a driver to be disappointed when he does not improve compared to the previous season, Hakkinen said in his latest interview with sponsor Hermes.
"Williams was not as competitive as it had been last year, but third place in the Constructors' championship remains a nice result for the team. I know they are more than satisfied with Valtteri's work. Patience is an asset for him at the moment and it will be rewarded."
Bottas recently declared that the Grove-based outfit needed to improve across the board if it wanted to return to winning ways in 2016. Hakkinen, who has been chaperoning his fellow countryman in F1, is not sure Williams can turn that corner this quickly. However, the ex-McLaren star hints that the technical revolution looming for 2017 might present the British squad with a good opportunity to cut the gap to the front.
"Currently, there are two very strong teams ahead of Williams [Mercedes and Ferrari]. Next season will not necessarily see big changes. But Williams retains highly skilled and motivated personnel, and the team will be even stronger.
"I would not bet on a timeframe for when Williams can actually fight for the championship again, but one should not forget that F1 cars will radically change the following year."
Abu Dhabi Grand Prix - Quotes of the weekend
Abu Dhabi Grand Prix - F1i's driver ratings
Use the red tabs on either side of the screen to scroll through more Formula One news and features
Click here for exclusive pictures of the Ferrari power unit
Keep up to date with all the F1 news via Facebook and Twitter