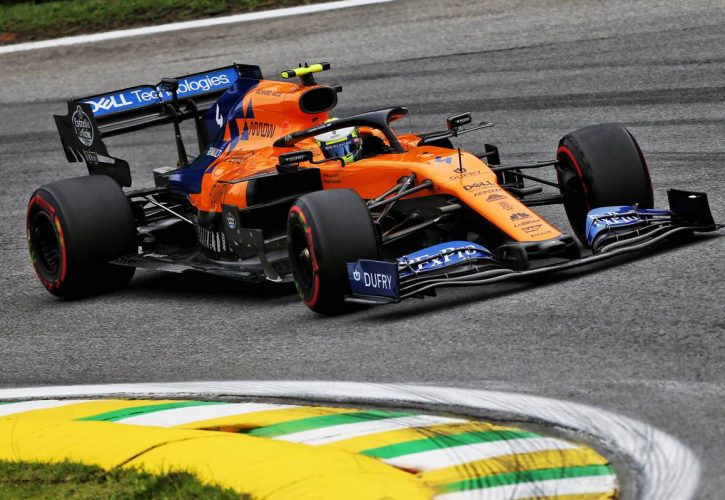 Lando Norris says  McLaren's midfield superiority and it's performance in qualifying paint a more favourable picture of its  MCL34 than its 2019 car deserves.
With two races to go, McLaren currently sits fourth in the Constructors' standings, with a 38-point lead over Renault that should allow the Woking-based outfit to finish the year as 'best of the rest'.
However, bragging rights set aside, Norris reveals that the one-lap performance on fresh tyres in qualifying of McLaren's 2019 contender has masked a real problem that remains under the skin of the MCL34.
"The new tyres mask it a bit, and they just give us the things that we need on the qualifying lap," Norris explained.
"So we were able to do better almost than what we know we will able to do during the race.
"We're on edge in qualifying and the car can perform well but when we get to the race the car kind of shows its true potential and what it should be doing on those older tyres, and the new tyres just mask it."
McLaren delivered its best qualifying performance of the year two weeks ago in Austin where Carlos Sainz and Lando Norris lined up respectively P7 and P8 on the grid.
Yet both drivers were beaten to the checkered flag by Renault's Daniel Ricciardo, prompting Norris to believe that the gap between McLaren and its midfield rivals is smaller than it looks.
"Yeah, I would say so. We're good in qualifying which is a good bonus for us, because it sets us up well for the race every time," commented the 20-year-old.
"I'm always in a good position, you can have clean air every now and then. We're able to not show as easily our weaknesses, or it kind of hides because we have clean air and the others are stuck behind us.
"But then when it's vice versa, then we struggle a lot more and we realise we're not as quick as when they're following us."
Gallery: The beautiful wives and girlfriends of F1 drivers
Keep up to date with all the F1 news via Facebook and Twitter