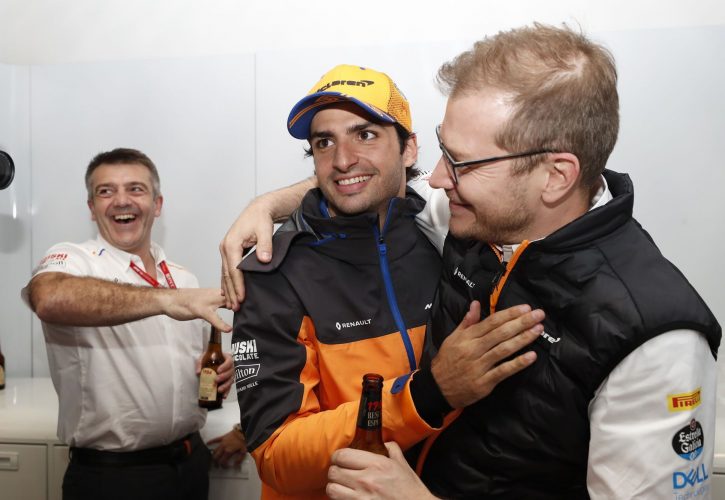 McLaren's return to the top-three last weekend in Brazil, courtesy of a spirited drive by Carlos Sainz, is a prelude to the outfit fighting for podiums in the future on "outright performance" says team boss Andreas Seidl.
After a dismal four-year period during which Formula 1's second most successful team was but a shadow of its former self, McLaren has finally pulled itself out of its enduring slump.
The papaya squad's sustained progress has moved it this year to the head of F1's competitive midfield, a fourth-place position in the Constructors' standings that it formerly sealed at Interlagos thanks to Sainz's and teammate Lando Norris' significant points haul.
"I'm happy for the entire team, everyone has done so much work throughout the year," Seidl told Sky F1.
"Performing P4 for us is a big step forward, and a great motivation for all of us to keep working hard with the clear aim that at some point, that we fight for podiums down to our own outright performance."
Sainz extraordinary drive in Brazil from dead last on the grid to third, helped by a bold one-stop strategy, undeniably added a coat of panache to McLaren's overall achievement.
"He's done a sensational job all year and he deserves it," said Seidl.
Unsurprisingly, the Spaniard himself qualified his drive in the penultimate round of the F1 world championship as his best race ever.
"My best, definitely," he enthused. "Because it was a normal race. It was dry, people were between one and two stops and we committed to a one-stop.
"I had to make moves on the first few laps and I did them. There was a move on Perez especially that was really, really good and from then on the tyre management kicked in.
"I managed to extend on the soft and then the management on the medium kicked in. Then I started passing Stroll, passing Lando [Norris] and other people, and all of a sudden I found myself in P8.
"Then, the decision came to either pit or not and we decided not to.
"For once we took a bit of a gamble and this time it paid off. The two SC restarts were probably the most difficult restarts of my life."
Gallery: The beautiful wives and girlfriends of F1 drivers
Keep up to date with all the F1 news via Facebook and Twitter