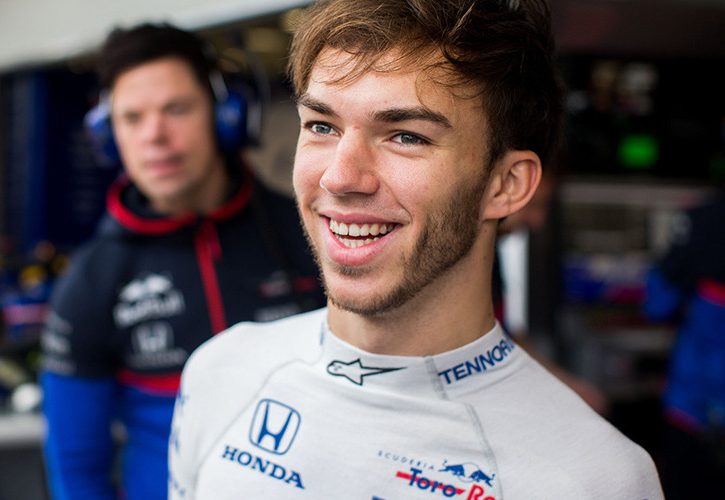 Brazilian Grand Prix runner-up Pierre Gasly will be aiming to fulfill a double objective for himself and Toro Rosso at this week's season finale at Yas Marina.
Gasly's sensational second-place finish at Interlagos certainly boosted the Frenchman's morale, but the result has also put the 23-year-old driver in contention for sixth in the 2019 drivers' championship.
Gasly heads to Abu Dhabi level with McLaren's Carlos Sainz in the standings, with both drivers sharing a total of 95 points.
A good bag of points in the final race of the season could therefore go a long way towards helping his ranking but also his team's tight fight against Renault in the Constructors' standings.
"It's the last race of the season so it's a special weekend," Gasly said in his team's race preview
"It's going to be very important for all of us at Toro Rosso as we want to finish as high as possible in the Constructors' Championship, I'm also in with a chance of ending up as the best driver from outside the top three teams in the Drivers' classification.
"We want to end the season in a good way, not just for our pride, but also because where you finish in the championship has an impact on our development work and our performance level for next season.
"Our championship fight adds to the excitement this weekend, although I can imagine that 'exciting' might not be the right word to describe how Franz feels about it!
"There's always something a bit sad about the final round, as it means we won't be racing again for around three and a half months.
"It's something that will dawn on me on Sunday night, the sense that the season is over."
It's been a challenging campaign for Gasly who started his season at Red Bull Racing aiming to establish himself as a bona fide front-runner.
Alas, a shortfall in performance relative to teammate Max Verstappen compelled Red Bull motorsport boss Helmut Marko to demote Gasly back to Toro Rosso while Alex Albon went the other way.
But the Frenchman claims he's happy with the state of his affairs, regardless of whatever is thrown his way in Abu Dhabi.
"Whatever happens on Sunday, I will be happy about how this season has gone, particularly my return to Toro Rosso in the middle of the year, and I will never forget my first visit to an F1 podium after coming second in Brazil," he said.
"But I will also enjoy having some time off once the racing is over.
"I will spend some time with friends and family in France for a couple of weeks around Christmas time, as I had hardly had any time to see them this year because my work schedule was so busy.
"After that, I'll start training seriously, going to Red Bull's training camp in the States from the end of December to be as well prepared as possible for next season.
"The best way to enjoy the winter break is to do well in the last race of the year and that's another reason to work really hard on this final weekend in Abu Dhabi."
Gallery: The beautiful wives and girlfriends of F1 drivers
Keep up to date with all the F1 news via Facebook and Twitter