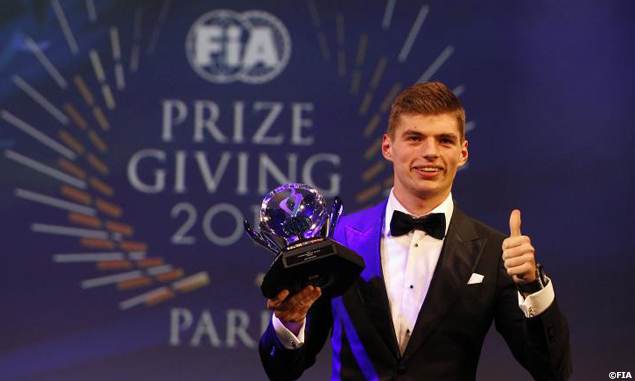 Max Verstappen concluded his standout rookie Formula One season by scooping a hat-trick of FIA awards at the annual Prize Giving gala held on Friday night in Paris.
The Dutchman won the Personality of the Year, Rookie of the Year, and Action of the Year categories. Verstappen wrote history once gain since this was the first time any driver claimed more than one of the non-championship related accolades in the same year.
While his promotion to Toro Rosso at the grand age of 16 raised many eyebrows last year, the teenager quickly silenced his critics. Verstappen was running well in the top 10 on debut in Melbourne when he suffered an engine failure. He then became the youngest driver ever to score championship points at the next event in Malaysia.
In only his second campaign in single-seaters, the F1 debutant went on delivering a series of cracking performances to score 49 points and finish 12th in the Drivers' standings.
"I am amazed and very happy to have won three awards at such an important event, and at the end of only my first year in Formula One," said Verstappen.
"It's a great honour to win the Rookie of the Year award, as it's voted for by the Drivers' Commission and I have to say, getting two fourth place finishes my first F1 season is more than I expected.
The 17-year-old also quickly established himself as an overtaking expert with an inclination towards pulling off stunning moves. Asked to vote online for their favourite overtake, motorsport fans chose Verstappen's ballsy pass on the outside of Sauber's Felipe Nasr at Spa's daunting Blanchimont during the 2015 Belgian Grand Prix.
"It's nice to win the Action of the Year for the second time because I really enjoy overtaking on track," added the youngster, who had already claimed the accolade while competing in Formula 3 last year.
"Personality of the Year? I'm not sure why I won that, but it's nice to know the media like me!"
Speaking to his official website, the Dutch phenom added: "I want to thank Red Bull for giving me the opportunity to make my Formula 1 début and of course I want to thank Toro Rosso, my dad [former F1 driver Jos Verstappen] and everyone involved. Without them I wouldn't have gotten this far."
Verstappen has been confirmed at Toro Rosso for 2016. He will once again partner Carlos Sainz, with the pair racing year-old Ferrari power units.
Red Bull confirms TAG-branded Renault engine
Exclusive pictures of the Ferrari power unit
Use the red tabs on either side of the screen to scroll through more Formula One news and features
Click here for a gallery of the McLaren MP4-X
Keep up to date with all the F1 news via Facebook and Twitter