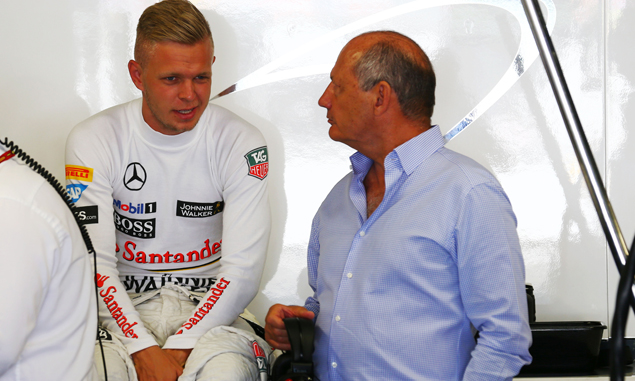 McLaren boss Ron Dennis says the team parted ways with former reserve driver Kevin Magnussen because he failed to reach "very clear goals" that had been set for him.
After winning the 2013 Formula Renault 3.5 Series in style, the Dane graduated to Formula One to replace the outgoing Sergio Perez. Despite an encouraging rookie campaign that saw him clinch a podium on debut in Australia, Magnussen had to step down to a reserve role following Fernando Alonso's return to Woking.
Having joined McLaren's Young Driver Programme in 2010, the 23-year-old was eventually dropped last October, a choice that Dennis fully endorses.
"[Magnussen] was given every opportunity, a season in Formula One followed by very clear goals that he had to achieve in 2014 and he didn't achieve those goals," the McLaren Group CEO said. "He knows himself and, no question, he knew that he didn't perform as he should have done this season.
"He is a good, talented driver, more than capable of driving in Formula One. But there are several drivers capable of driving in Formula One, who for one reason or another don't get that opportunity."
Dennis insists McLaren will remain committed to its tradition of nurturing up-and-coming drivers and keep an eye on Magnussen's progress out of Woking.
"Both he and all drivers that come to McLaren and leave McLaren always get continuous support if they want to receive it. We don't walk away from our drivers and we're always supportive of our drivers.
"Some have left under a little bit of a dark cloud, so there's the exception to the rule, but basically we do a great deal to bring young drivers on. We care. We take these young people and we pay for their careers: we paid for Kevin's career, we paid for Lewis [Hamilton]'s career. People forget we paid for [Nico] Rosberg's career in the early days."
With GP2 Series winner Stoffel Vandoorne already on the McLaren junior roster, the matter of finding a replacement for Magnussen was dealt swiftly. Since his eviction, the Dane has tested with Porsche's LMP1 squad and Mercedes's DTM outfit, while also remaining an outside bet for one of the two Manor Marussia seats.
Magnussen's last F1 outing came in Melbourne last March when he had to sub for the injured Alonso in the 2015 curtain raiser.
The MP4-X: McLaren unveils radical F1 concept car design
Click here for a more light-hearted look at the Abu Dhabi Grand Prix
Use the red tabs on either side of the screen to scroll through more Formula One news and features
Click here for a gallery of the McLaren MP4-X
Keep up to date with all the F1 news via Facebook and Twitter