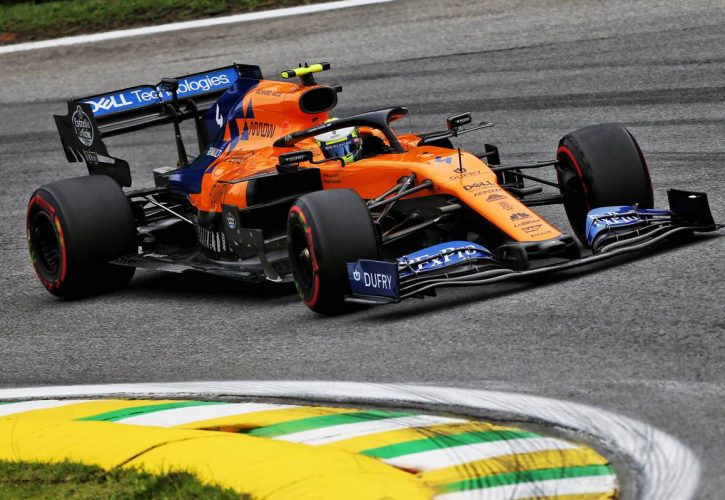 Lando Norris has revealed that a weakness in the way that the MCL34 handled corners was one of the key things that held McLaren back in 2019.
"You don't always hear about every problem that goes on in a team and in Formula 1," he told the Autosport International show in Birmingham on Saturday. "But we were kind of suffering a bit at the beginning of last year.
"Last year was a completely different car with a lot of mechanical problems," he said, "We were trying to get as much understanding as we could get.
Norris explained that there had been "areas in which we were not good last year, that we were quite weak in" right from the start.
He highlighted disappointing cornering performance as being at the top of the list of things that needed improving on in 2020. "Almost every corner," he elaborated. "But there's still more specific corners which we struggled in.
"[We've been] trying to work on those areas and, from the results I've seen, it's looking positive," he said. "It's going in the right direction, but we still need more to be really competitive.
Overall, 2019 was a strong year for McLaren. After finishing in a desperate ninth place in the constructors standings at the end of 2017, just two years later they were able to claim the title of 'best of the midfield teams' after finishing in fourth place in the standings.
Carlos Sainz clinched a breakthrough podium place for McLaren in the penultimate race of the year in Brazil, while Norris himself racked up 49 points in his maiden season with the team.
"We wouldn't have finished fourth in the championship as a team if we didn't work as well together as we did last year," Norris said of his warm and friendly relationship with his more experienced team mate, which notably lacked any hint of the tension and friction of other pairings on the grid such as Ferrari.
Norris said that he and Sainz had been "looking at the longer game", and had concluded that in order to win races and championships "the best thing is to work together."
"A big part of what we have achieved is because of how we work together, how we help each other, how we try and help the team," Norris said. "At the moment it's only benefiting us in every way.
"I hope it continues, because I just want to have fun and enjoy it," Norris added. "And he does as well."
Although he's spoken recently of taking 2020 more seriously and wanting to cut out the mistakes that stopped him from having an even better rookie season, Norris was now feeling positive about his maiden season overall.
"I think - and I can now say - that I was very happy with how I did," he confirmed. "I did better than I thought I would do
"I'm not saying that's because it was easy at all, but just because as a team we worked so well. My engineers helped me to settle in, to get comfortable and to be able to do the best I can."
And the aim is that this will feed in to what he can do in his sophomore season in 2020. "I'm more confident in my own driving, because it's my second year in Formula 1, so I now feel a lot more confident.
"I just want to enjoy it, have fun and enjoy my life," he continued. "I have to get the balance right, because at the same time you get a lot of people who say it looks like I'm enjoying it too much and maybe not concentrating enough and everything.
"But I don't really care what they say, to be honest."
Gallery: The beautiful wives and girlfriends of F1 drivers
Keep up to date with all the F1 news via Facebook and Twitter