Formula 1's winter testing in Barcelona was done and dusted on Friday, with the Mercedes team ending the second week of pre-season preparations at the Circuit de Catalunya in much the same rude health it had ended the first.
No one was able to beat the overall top benchmark time of 1:15.732s on the softest C5 Pirelli compound set by Valtteri Bottas in Week 1. The Finn himself also set the quickest time of Week 2 with a lap of 1:16.196s on the last day.
Red Bull's Max Verstappen tried hard in the final minutes of testing to match it, but ultimately fell just short with a best effort of 1:16.269s on a set of C4s. That was still good enough to push lunchtime leader Daniel Ricciardo down to third spot for the day and indeed the entire test.
The slowest 'best' laps of the 21 drivers taking part over the two tests were posted by Haas' Kevin Magnussen (1:17.495s), Red Bull's Alex Albon (1:17.550s) and McLaren's (1:17.573s).
While Magnussen set his time on the C4 compound, Albon's was on the harder C2 tyres and Norris set his time on a set of C3s, confirming that both were concentrating on distance simulations rather than qualifying runs throughout testing.
Overall in terms of speed, Williams' best lap of the test was 1.259s faster than it managed in pre-season testing 12 months previously. It was also good news for Racing Point, whose best time was almost a full second quicker than last year.
Red Bull were similarly looking stronger, over eight tenths better than 2019, while Renault appeared to have gained around almost six tenths in top-line speed year-on-year. But the bad news for the rest of the paddock is that Mercedes were also nearly half a second up on their last year's best.
McLaren and Haas were virtually unchanged on last year's pace, while the only two teams that ended up slower than last year were AlphaTauri (by a mere 0.032s) and Ferrari (by a somewhat more troubling 0.139s).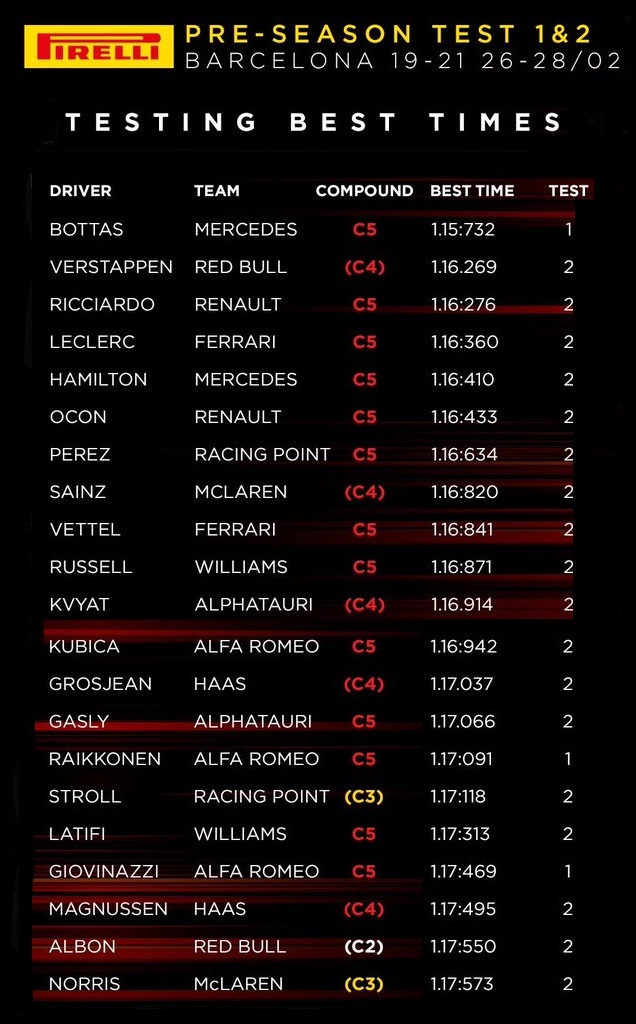 Despite concerns about engine reliability that saw them notch up just 14 laps on Thursday afternoon, Mercedes also continued to top the overall mileage charts. Having completed 494 laps during the first three days of testing, they pushed on to a final tally of 903 laps (4202km) by the time the chequered flag came out on Friday afternoon.
That compared to 844 laps for a much-improved Ferrari at the end of week two, 802 for McLaren, 782 for Racing Point and 780 for Red Bull Racing. The rest of the teams all put in between 700 and 800 laps over the course of the test, with the exception of Haas which banked just 649 completed circuits of the Spanish track.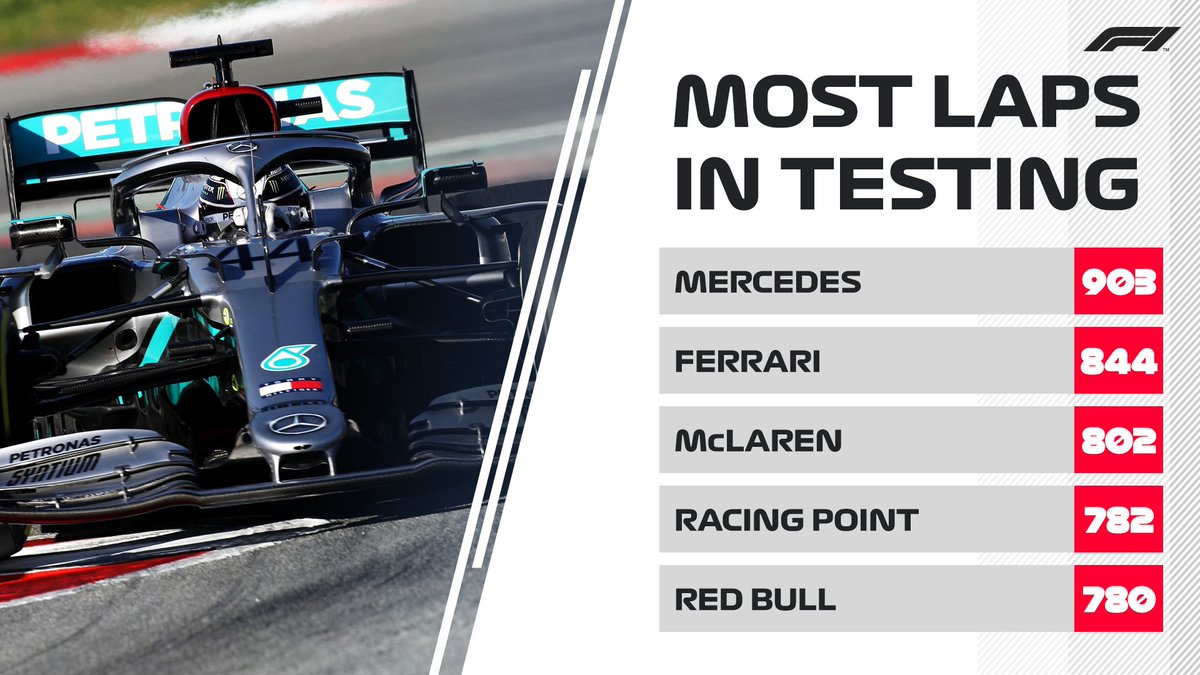 Those figures mean Mercedes also managed to hold on to the top position in terms of the combined efforts of the four engine manufacturers. The Silver Arrows works team together with customer squads Racing Point and Williams completed a total of 2422 laps for the two sessions.
Ferrari and its customer teams Alfa Romeo and Haas were close behind with 2228 laps. Honda's pairing of Red Bull Racing and AlphaTauri ran 1549 laps, narrowly pipping the combined count from Renault and McLaren by just four laps.
When it comes to individual driver contributions, Lewis Hamilton clocked up the most laps of anyone in the test, with 466 putting him just ahead of Carlos Sainz (446), Charles Leclerc (442), Sergio Perez (441), Valtteri Bottas (437), Max Verstappen (414) and Sebastian Vettel (402).
As the only team to share its testing duties between three different drivers, it was no upset to see Antonio Giovinazzi with just 323 laps on the board, Kimi Raikkonen on 300, and reserve driver Robert Kubica with a total of 112 having been in the car for just two half-days.
Perhaps more of a surprise was the presence of Magnussen in this all-Alfa company, on just 250 laps. Much of that can be put down to his unfortunate accident, where a defective wheel spacer meant he missed out on almost all of his time in the car on the first Friday afternoon.
A special commendation for service above and beyond the call of testing duty goes to Charles Leclerc, who completed a whopping 181 laps in a single day on the final Friday. Max Verstappen had previously banked 168 laps on the first Wednesday session.
Gallery: The beautiful wives and girlfriends of F1 drivers
Keep up to date with all the F1 news via Facebook and Twitter