Formula 1 has released the official schedule for the first eight races of the 2020 season that will all take place in Europe.
As expected, the sport's long-awaited campaign will kick off behind closed doors in Austria on July 5, with two events staged at the Red Bull Ring at Spielberg.
The consecutive races bear different names however, with the 'Formula 1 Rolex Grosser Preis von Osterreich' followed a week later at the same venue by the 'Formula 1 Pirelli Grosser Preis der Steiermark'.
Formula has adopted the same branding principle for Silverstone's double-header scheduled in August.
The Spanish Grand Prix has retained its presence on the calendar, while the Dutch Grand Prix at Zandvoort has been permanently canceled for 2020.
All races are expected to take place behind closed gates although a special provision could allow for a very limited number of spectators to attend certain races.
The Formula 1 paddock will function autonomously within its own "biosphere", with stringent safety measures - including testing - implemented to safeguard members of the F1 community against risks of COVID-19 propagation.
Teams will be limited to 80 members of staff while no motorhomes will be allowed in the paddock.
All the European races will be supported by Formula 2 and Formula 3.
Formula 1 is still hoping to add at least seven more races to the 2020 season, with the viability of events in Asia and America currently being assessed.
However, China and Vietnam have been placed at the top of Liberty Media's list of venues that it hopes to include in this year's schedule, while Bahrain and Abu Dhabi are expected to bookend the 2020 calendar in December.
Hockenheim and Mugello are reportedly considered as reserve venues if F1 struggles to add the adequate number of fly-away events.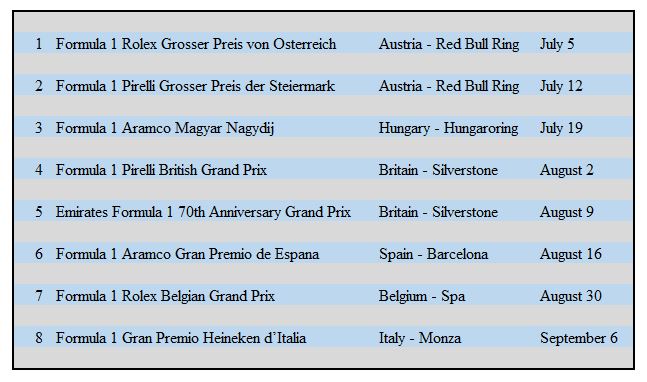 Gallery: The beautiful wives and girlfriends of F1 drivers
Keep up to date with all the F1 news via Facebook and Twitter