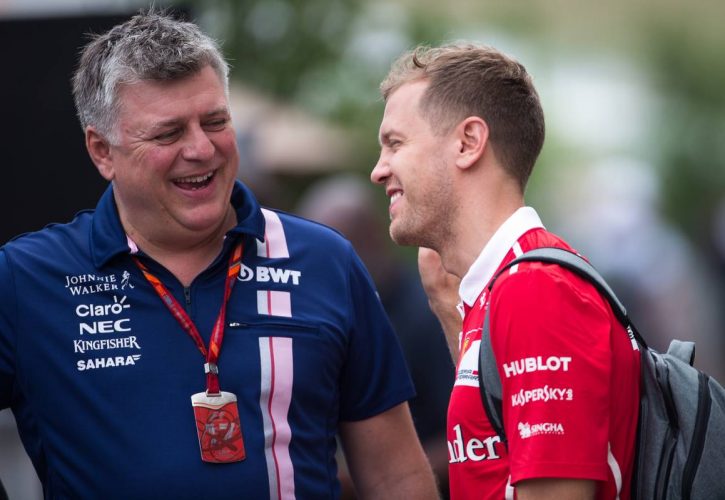 Ex-F1 driver Gerhard Berger believes a deal between Sebastian Vettel and Aston Martin Racing for 2021 is currently being negotiated by the two parties.
Vettel will leave Ferrari at the end of the year and the German driver's options for next season appear limited, but Racing Point, which will switch its name to Aston Martin Racing in 2021, has apparently captured Vettel's interest.
Berger had his ear to the ground last weekend in Austria, and what he heard in Spielberg tells him that a deal between the pink outfit and the four-time world champion is in the works.
"The way discussions are going on in the paddock, the topic is probably already over," Berger said, speaking on Servus TV's 'Sport and Talk from hanger 7' on Monday evening.
"I can imagine that Sebastian will show up at Racing Point. It could be the only alternative for him to win races."
However, last weekend in Austria, Racing Point team boss Otmar Szafnauer insisted his team "had no space" for Vettel for 2021, with both Sergio Perez and Lance Stroll on long terms deals with the team.
"It's flattering that everyone thinks a four-time world champion should come to our team but maybe that's because the car's a bit quicker now," Szafnauer said.
"We have long contracts for both of our drivers so it would only be logical that we don't have space."
Then again, Formula 1 is often anything but "logical".
It's safe to say that Stroll's seat in his father's team is secure for years to come, but Germany's Bild has alleged that an exit clause exists in Perez's contract.
To part ways with the Mexican driver prematurely Racing Point would reportedly need to activate the exit clause by July 31 and compensate Perez with a "high single digit million-dollar amount".
Perez's exit would be a blow for the 30-year-old who, as a reminder, was instrumental in forcing the legal proceedings that led to the sale of Force India to Lawrence Stroll and his associates in the summer of 2018. The loss of his Racing Point drive could put the loyal Mexican on the sidelines indefinitely.
On the other hand, the opportunity for Lawrence Stroll to recruit a big name and a four-time world champion that would add value to the Aston Martin brand is likely seen as compelling by the Canadian billionaire.
The rumor mill will no doubt still be spinning next weekend in Hungary. So stay tuned…
Gallery: The beautiful wives and girlfriends of F1 drivers
Keep up to date with all the F1 news via Facebook and Twitter